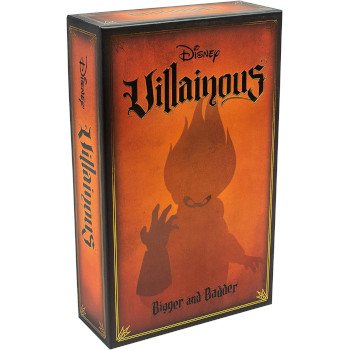 Tipologia

Lingua
I prezzi sono visibili solo agli utenti registrati e autorizzati
Gioco base e/o Espansione per Villainous in italiano
In Villainous: Bigger & Badder, fanno la loro comparsa due cattivi Pixar: Lotso da Toy Story 3 e Sindrome dagli Incredibili; a completare il gruppo la temibile Maga Magò! Ogni giocatore ha il proprio mazzo di malvagi, mazzo del destino, plancia giocatore e personaggio 3D.
Durante un turno, il giocatore attivo sposta il suo personaggio in una posizione diversa sulla sua plancia, prende una o più delle azioni visibili su quello spazio (giocando carte dalla sua mano), quindi ricarica la sua mano a quattro carte. Le carte sono alleati, oggetti, effetti e condizioni. Devi usare le tue carte per soddisfare la tua condizione di vittoria.
Una delle azioni ti permette di scegliere un altro giocatore, pescare due carte dal mazzo del destino di quel giocatore, poi giocarne una sulla plancia di quel giocatore, coprendo due dei quattro spazi di azione in una delle posizioni di quel giocatore. Il mazzo del destino contiene eroi, oggetti ed effetti del film di quel cattivo in particolare e queste carte permettono ad altri giocatori di ostacolare quel cattivo.
Villainous: Bigger & Badder è giocabile come gioco a se stante per 2-3 giocatori oppure i suoi personaggi possono affrontare quelli del gioco base: Villainous.
MS Distribuzione
Ms Distribuzione (Magic Store srl) è un distributore italiano che vende giochi di carte collezionabili e fantasy (TCG) come Magic: The Gathering, Yu-Gi-Oh!, Pokemon o Cardfight!! . Offriamo anche accessori di noti produttori come Ultra Pro o Dragon Shield. I nostri clienti sono i rivenditori, che cercano un servizio eccellente, prezzi competitivi e uno standard di qualità elevato. Approfitta del nostro servizio di prima classe, dei nostri preventivi senza rivali e della consegna rapida e senza problemi. In questo sito vendiamo solo a rivenditori o altri distributori. Non siamo autorizzati a vendere direttamente ai clienti finali e siamo quindi strettamente Business to Business ("B2B"). Se sei un rivenditore che desidera espandere il tuo portafoglio prodotti, registrati e dopo aver confermato il tuo stato commerciale ti garantiremo l'accesso ai nostri prezzi e livelli di stock.