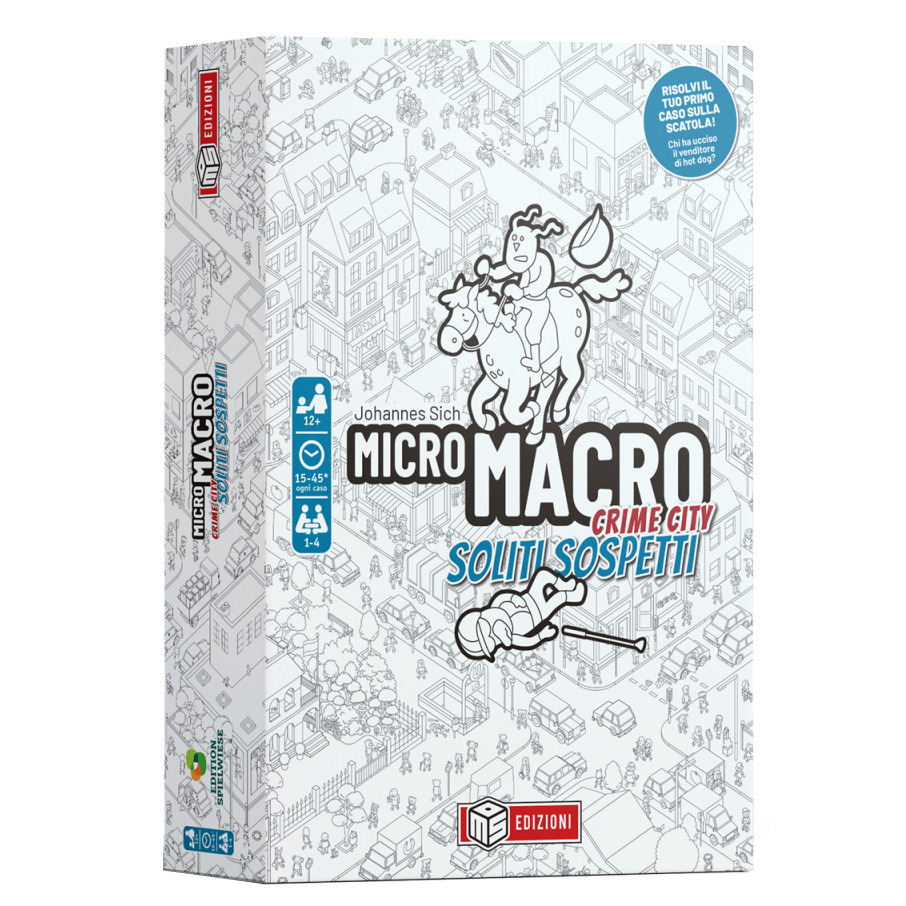 Tipologia

Lingua
I prezzi sono visibili solo agli utenti registrati e autorizzati
IL CRIMINE È NASCOSTO NEI DETTAGLI

Soliti Sospetti è il terzo capitolo della serie MicroMacro: Crime City.
Contiene una nuova mappa della città e 16 nuovi casi che non richiedono una copia dei capitoli precedenti per essere giocati.
Benvenuti a MicroMacro, una tranquilla cittadina sopraffatta dal crimine! Violente risse, efferati omicidi e sanguinose rapine sono all'ordine del giorno in città. La polizia locale ha perso il controllo della situazione, per questo abbiamo bisogno di tutte le vostre capacità investigative!
MicroMacro è un gioco cooperativo di investigazione: dovrete risolvere ingegnosi crimini scoprendo il movente, trovando le prove e arrestando i colpevoli. Un occhio attento ai particolari e un lucido ragionamento deduttivo saranno le chiavi del vostro successo. Questo è un lavoro per veri investigatori!
Il primo caso si risolve direttamente sulla scatola!
Un design elegante ed originale mai applicato ad un gioco da tavolo
Adatto sia per una serata tra amici che per migliorare il lavoro di squadra
Componenti:
• Mappa gigante della città (75x110 cm)
• 120 carte per 16 avvincenti casi da risolvere
• 1 Lente d'Ingrandimento per i dettagli nascosti
Prezzo al pubblico € 29,90
Cod ISBN: 9788831382694
MS Distribuzione
Ms Distribuzione (Magic Store srl) è un distributore italiano che vende giochi di carte collezionabili e fantasy (TCG) come Magic: The Gathering, Yu-Gi-Oh!, Pokemon o Cardfight!! . Offriamo anche accessori di noti produttori come Ultra Pro o Dragon Shield. I nostri clienti sono i rivenditori, che cercano un servizio eccellente, prezzi competitivi e uno standard di qualità elevato. Approfitta del nostro servizio di prima classe, dei nostri preventivi senza rivali e della consegna rapida e senza problemi. In questo sito vendiamo solo a rivenditori o altri distributori. Non siamo autorizzati a vendere direttamente ai clienti finali e siamo quindi strettamente Business to Business ("B2B"). Se sei un rivenditore che desidera espandere il tuo portafoglio prodotti, registrati e dopo aver confermato il tuo stato commerciale ti garantiremo l'accesso ai nostri prezzi e livelli di stock.