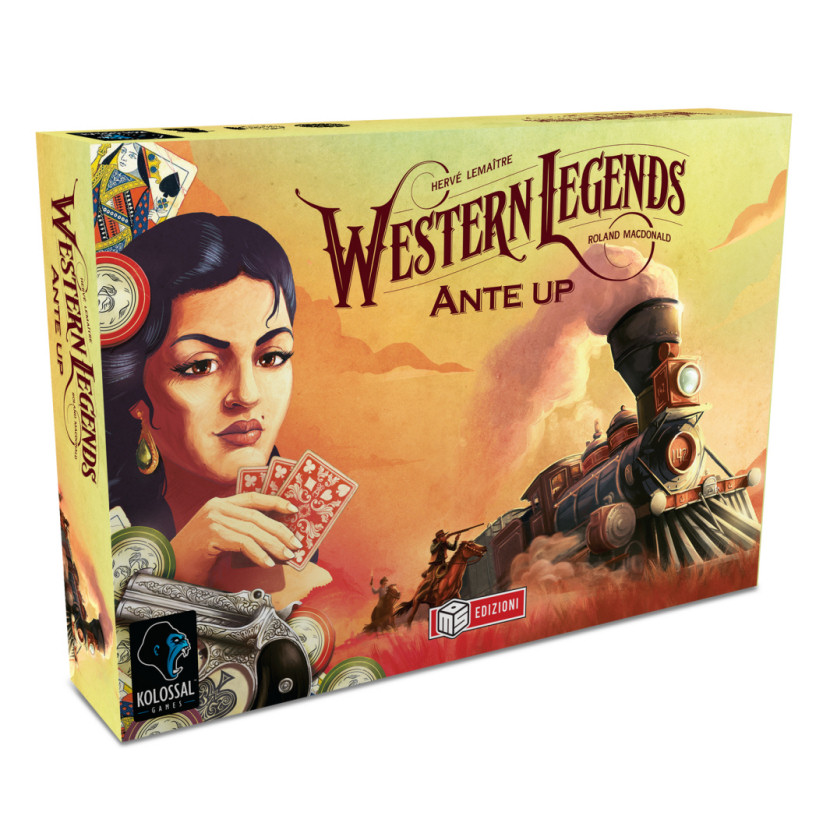 Codice

115617

Tipologia

Lingua

Preordine

Disponibile dal 29 settembre
I prezzi sono visibili solo agli utenti registrati e autorizzati
ESPANSIONE - GIOCO BASE NECESSARIO
I pionieri in viaggio verso Ovest talvolta si imbattono in fortune inimmaginabili. Impazienti di scrivere il proprio nome nelle pagine della storia, alcuni diventeranno leggende con il revolver in mano mentre altri si rovineranno per sempre la reputazione giocando a carte. Le locomotive in arrivo sbuffano colonne di fumo nero. Là fuori, lungo l'orizzonte privo di nuvole, una cittadina chiamata Buzzard Gulch è in cerca di nuovi pionieri. Il Far West diventa ancora più vasto con Ante Up, la prima enorme espansione per Western Legends.
Questa scatola introduce nuovi concetti di gioco: le carte Evento, differenti modi per giocare d'azzardo, nuovi luoghi ancora più a Ovest, il tracciato Gambler e il Treno.
Contenuto: 1 tabellone Ante Up, 1 espositore Avamposto Commerciale, 1 miniatura del Treno, 1 plancia Gambler / Treno, 6 schede Riassuntive, 6 cubi Punteggio, 12 indicatori Scommessa, 8 carte Personaggio, 32 carte Obiettivo, 10 carte Poker alternative, 22 carte Evento, 8 carte Treno, 24 carte Oggetto, 8 segnalini Bestiame, 9 segnalini Leggenda, 7 indicatori Evento, 2 indicatori Valico di Montagna, 9 segnalini Fuorilegge, 3 segnalini Claim Jumper, 3 segnalini High Roller, 6 segnalini Longhorn, 12 segnalini Frontiera, 1 Regolamento.
Cod. EAN: 8051772020194
MS Distribuzione
Ms Distribuzione (Magic Store srl) è un distributore italiano che vende giochi di carte collezionabili e fantasy (TCG) come Magic: The Gathering, Yu-Gi-Oh!, Pokemon o Cardfight!! . Offriamo anche accessori di noti produttori come Ultra Pro o Dragon Shield. I nostri clienti sono i rivenditori, che cercano un servizio eccellente, prezzi competitivi e uno standard di qualità elevato. Approfitta del nostro servizio di prima classe, dei nostri preventivi senza rivali e della consegna rapida e senza problemi. In questo sito vendiamo solo a rivenditori o altri distributori. Non siamo autorizzati a vendere direttamente ai clienti finali e siamo quindi strettamente Business to Business ("B2B"). Se sei un rivenditore che desidera espandere il tuo portafoglio prodotti, registrati e dopo aver confermato il tuo stato commerciale ti garantiremo l'accesso ai nostri prezzi e livelli di stock.