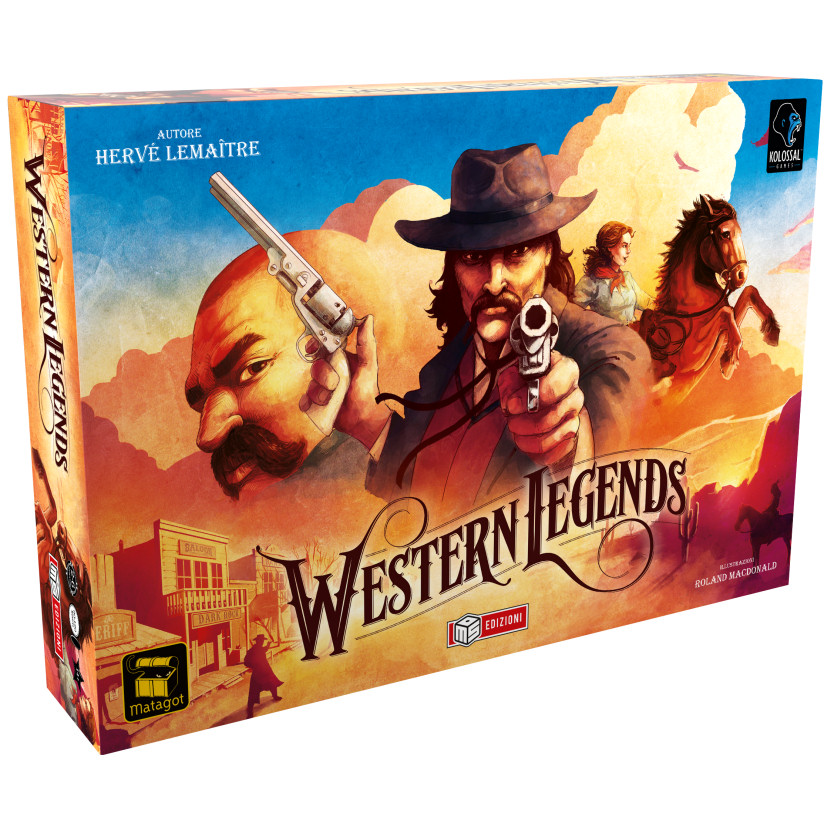 Codice

115616

Tipologia

Lingua

Preordine

Disponibile dal 29 settembre
I prezzi sono visibili solo agli utenti registrati e autorizzati
GIOCO IN ITALIANO - SCATOLA BASE
In Western Legends il vostro obbiettivo è ottenere il maggior numero di Punti Leggenda.Partite a poker, ricerca dell'oro, visitare il cabaret, rapinare la banca o dare la caccia ai fuorilegge … sono solo alcuni dei numerosi modi per vincere. Diventa una Leggenda e scrivi la storia!
Contenuto: 1 tabellone di gioco, 6 plance Giocatori (a due facce), 6 miniature dei giocatori, 6 basi colorate, 1 miniatura dello Sceriffo, 6 miniature dei Banditi, 12 cubi Punteggio, 12 dischi Storia, 2 dadi Ricerca, 36 Pepite d'oro, 1 espositore Emporio, 6 segnalini Ferita, 12 carte Personaggio, 40 carte Storia, 52 carte Poker, 6 schede Riassuntive, 48 carte Obiettivo, 54 carte Denaro, 54 carte Oggetto, 13 carte Scontro, 11 carte Uomo in Nero, 16 segnalini Bestiame, 18 segnalini Leggenda, 1 indicatore Fine Partita, 1 segnalino Primo Giocatore, 1 Regolamento.
Cod. EAN: 8051772020187
MS Distribuzione
Ms Distribuzione (Magic Store srl) è un distributore italiano che vende giochi di carte collezionabili e fantasy (TCG) come Magic: The Gathering, Yu-Gi-Oh!, Pokemon o Cardfight!! . Offriamo anche accessori di noti produttori come Ultra Pro o Dragon Shield. I nostri clienti sono i rivenditori, che cercano un servizio eccellente, prezzi competitivi e uno standard di qualità elevato. Approfitta del nostro servizio di prima classe, dei nostri preventivi senza rivali e della consegna rapida e senza problemi. In questo sito vendiamo solo a rivenditori o altri distributori. Non siamo autorizzati a vendere direttamente ai clienti finali e siamo quindi strettamente Business to Business ("B2B"). Se sei un rivenditore che desidera espandere il tuo portafoglio prodotti, registrati e dopo aver confermato il tuo stato commerciale ti garantiremo l'accesso ai nostri prezzi e livelli di stock.