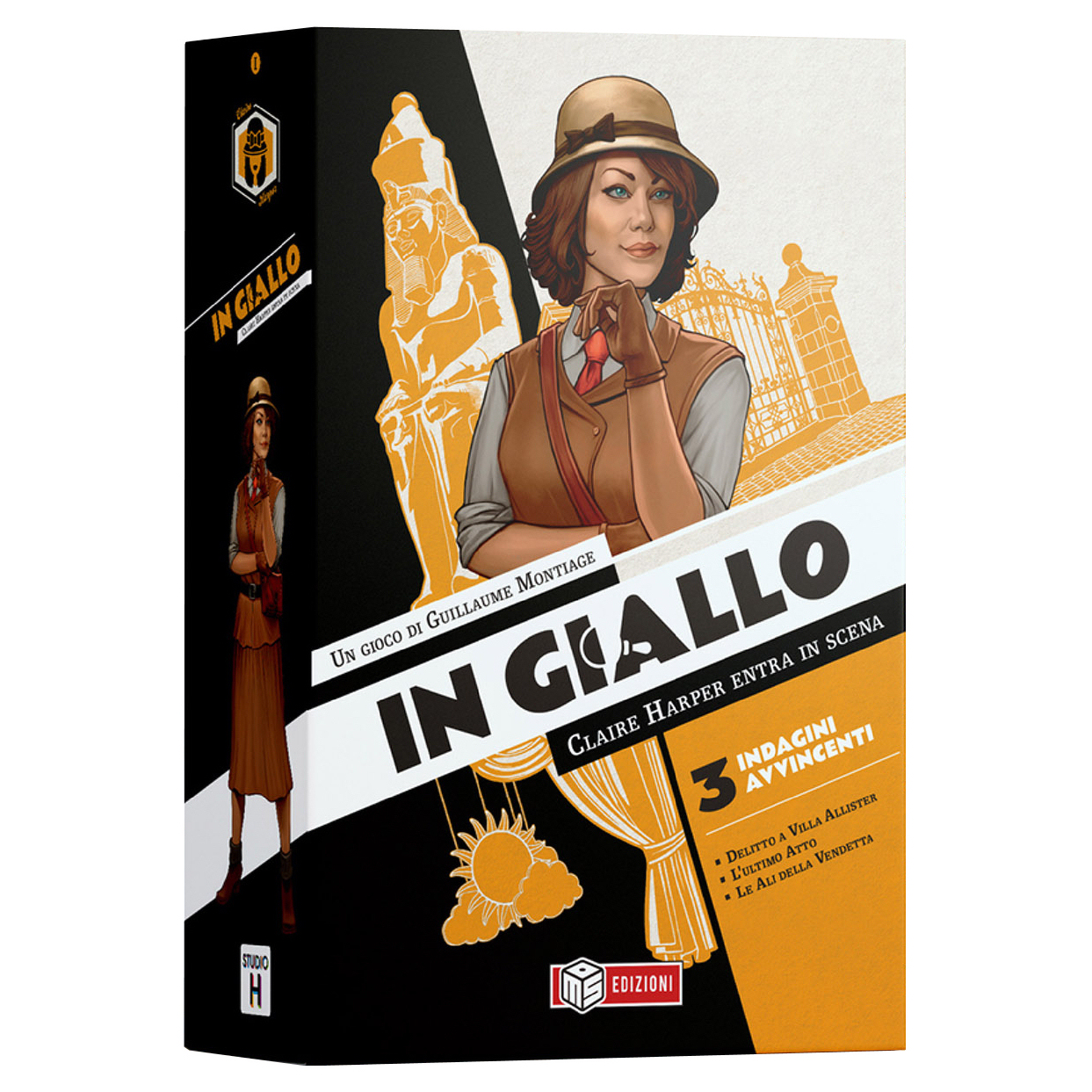 Codice

109692

Tipologia

Lingua
I prezzi sono visibili solo agli utenti registrati e autorizzati
IN GIALLO è un gioco cooperativo di investigazione. Nel ruolo della giovane detective Claire Harper dovete indagare su misteriori delitti ambientati negli anni '30. Da solo o con gli amici, affiancherete l'intrepida e brillante Claire Harper nelle sue avventure, tra maestose ville e teatri in rovina, dalla Scozia all'Egitto!
Il gioco contiene 3 casi completi con trame coinvolgenti e personaggi profondi, proprio come nei romanzi di Agatha Christie.

> DELITTO A VILLA ALLISTER
"Miss Harper, trovo difficile credere che Lord Allister possa ospitare un assassino sotto il proprio tetto. Proprio a Natale, poi! Miss Mary, la vittima di questo orrendo crimine, era un vero angelo, adorata senza eccezioni da tutti i membri della famiglia Allister."
> L'ULTIMO ATTO
"È stato orribile, Claire: la scenografia è crollata sul povero George! Era un attore leggendario, e lci ha lasciato in circostanze incredibilmente drammatiche! Che qualcuno stia tentando di sabotare lo spettacolo?"
> LE ALI DELLA VENDETTA
"È una bruttissima storia, Miss Harper! Una cassaforte aperta, un archeologo assassinato, un colpo dall'alto e 3 oggetti perfettamente allineati di fianco al cadavere... È un vero mistero per la polizia egiziana. Temo che sia al di sopra delle nostre competenze!"
INDAGA SULLA SCENA DEL CRIMINE
INTERROGA I TESTIMONI
RACCOGLI GLI INDIZI...
RISOLVI IL MISTERO, PROPRIO COME IN UN ROMANZO GIALLO!
CONTENUTO (PER LE 3 INDAGINI):
• 167 carte grandi
• 3 dossier introduttivi
• 6 mappe e documenti
• 7 buste con le soluzioni
• 1 regolamento
AUTORE: Guillaume Montiage
ILLUSTRATORE: Emile Denis
Età 10+ / Durata 90' / Giocatori 1-6
Cod ISBN: 9788831382380
MS Distribuzione
Ms Distribuzione (Magic Store srl) è un distributore italiano che vende giochi di carte collezionabili e fantasy (TCG) come Magic: The Gathering, Yu-Gi-Oh!, Pokemon o Cardfight!! . Offriamo anche accessori di noti produttori come Ultra Pro o Dragon Shield. I nostri clienti sono i rivenditori, che cercano un servizio eccellente, prezzi competitivi e uno standard di qualità elevato. Approfitta del nostro servizio di prima classe, dei nostri preventivi senza rivali e della consegna rapida e senza problemi. In questo sito vendiamo solo a rivenditori o altri distributori. Non siamo autorizzati a vendere direttamente ai clienti finali e siamo quindi strettamente Business to Business ("B2B"). Se sei un rivenditore che desidera espandere il tuo portafoglio prodotti, registrati e dopo aver confermato il tuo stato commerciale ti garantiremo l'accesso ai nostri prezzi e livelli di stock.