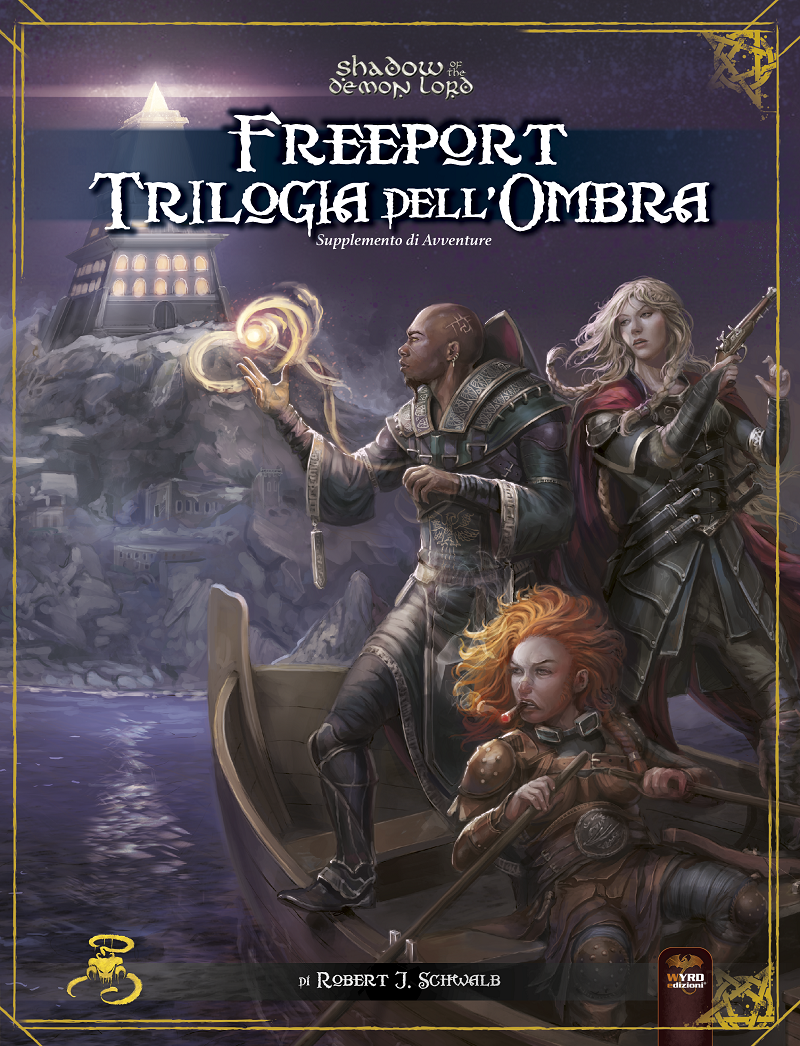 Codice

115784

Tipologia

Lingua
I prezzi sono visibili solo agli utenti registrati e autorizzati
Supplemento per Shadow of the Demon Lord in italiano
Progettata originariamente per Dungeons & Dragons, questa trilogia di avventure è stata aggiornata e adattata per il gioco di ruolo Shadow of the Demon Lord. Questo adattamento porta Freeport nel mondo di Urth e vi mostra come sono iniziate le storie emozionanti e le avventure mozzafiato ambientate in questa città evocativa. Nella Trilogia dell'Ombra troverete:
•Morte a Freeport: Nella prima avventura i personaggi, bloccati a Freeport, la grande città commerciale sulle Isole dei Pirati, vengono ingaggiati per svolgere un semplice lavoro per un'onesta ricompensa. Tuttavia, più approfondiscono il mistero, più la storia si complica e dalla fine scoprono che c'è in atto una terribile cospirazione e i segreti che si celano dietro di essa potrebbero per loro essere fatali.
•Terrore a Freeport: Continuando ad investigare sul vile culto annidato a Freeport che hanno scoperto, i personaggi avranno a che fare con pericolosi cultisti, ma non sempre quelli di loro che si nascondono sotto le strade e gli individui serpente che vivono in città sono da considerarsi come agenti del male.
•Follia a Freeport: La rivelazione della Pazzia di Milton si avvicina e i personaggi devono scoprire i suoi sinistri segreti in una corsa contro il tempo. Questa volta, però, si trovano ad affrontare qualcosa di più che oscuri vicoli e non morti senza cervello. Il Signore del Mare Drac ha gli occhi puntati su di loro e potrebbero non sopravvivere alle sue malefiche attenzioni!
MS Distribuzione
Ms Distribuzione (Magic Store srl) è un distributore italiano che vende giochi di carte collezionabili e fantasy (TCG) come Magic: The Gathering, Yu-Gi-Oh!, Pokemon o Cardfight!! . Offriamo anche accessori di noti produttori come Ultra Pro o Dragon Shield. I nostri clienti sono i rivenditori, che cercano un servizio eccellente, prezzi competitivi e uno standard di qualità elevato. Approfitta del nostro servizio di prima classe, dei nostri preventivi senza rivali e della consegna rapida e senza problemi. In questo sito vendiamo solo a rivenditori o altri distributori. Non siamo autorizzati a vendere direttamente ai clienti finali e siamo quindi strettamente Business to Business ("B2B"). Se sei un rivenditore che desidera espandere il tuo portafoglio prodotti, registrati e dopo aver confermato il tuo stato commerciale ti garantiremo l'accesso ai nostri prezzi e livelli di stock.