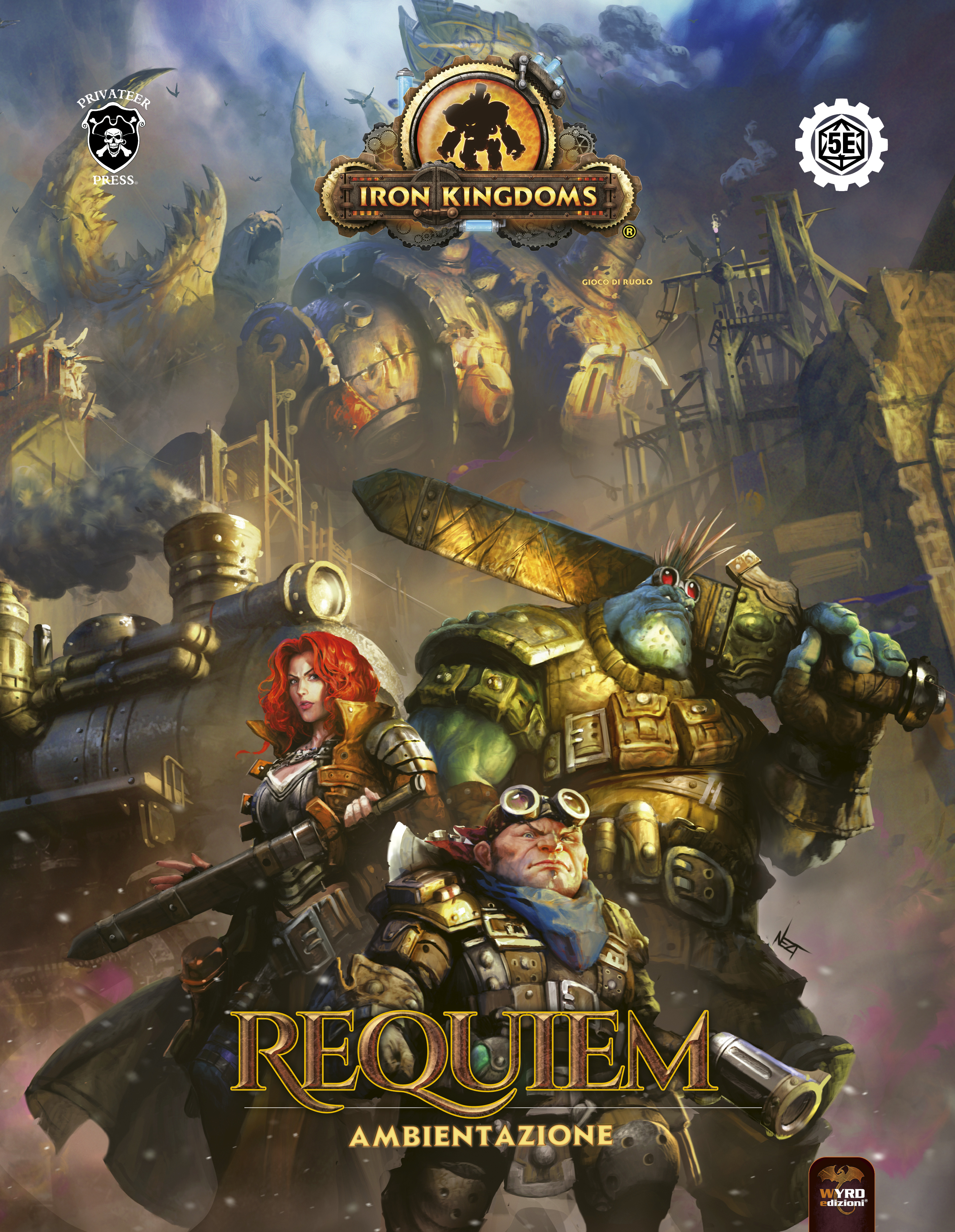 Codice

115532

Tipologia

Lingua

Rientro

Disponibile da settembre 2023
I prezzi sono visibili solo agli utenti registrati e autorizzati
Gioco di ruolo in italiano - Manuale base e Ambientazione
Immergiti nel pluripremiato mondo dei Regni di Ferro con il gioco di ruolo Iron Kingdoms: Requiem e combina questa fantastica ambientazione con l'ultima edizione del gioco di ruolo più popolare al mondo, il regolamento 5E.
All'interno, troverai la storia dei Regni di Ferro e lo stato attuale del mondo dopo la Rivendicazione e informazioni dettagliate sui luoghi più importanti e affascinanti del mondo.
Che tu voglia essere un umano, un gobber, un trollkin, un nano di Rhul, un ogrun, un Iosan o un elfo di Nyss, troverai tutte le regole che rendono unici questi diversi popoli quando crei il tuo personaggio! Quindi scegli una classe dal coraggioso guerriero al monaco dell'Ordine della Dragma, o prova qualcosa di nuovo come un pistolero mistico, un geniere arcano, un alchimista combattente o persino un guerriero arcano!
Aggiungi nuovi talenti, incantesimi e origini per far sentire i tuoi personaggi ancora più parte del mondo dei Regni di Ferro, oltre a regole per le tecnologie arcane della terra, come armi da fuoco e armature galvaniche, e sarai pronto per l'avventura.
Che sia la tua prima volta nei Regni di Ferro o la tua ultima escursione, troverai un mondo fantasy originale, incredibile ed entusiasmante ad aspettarti!
MS Distribuzione
Ms Distribuzione (Magic Store srl) è un distributore italiano che vende giochi di carte collezionabili e fantasy (TCG) come Magic: The Gathering, Yu-Gi-Oh!, Pokemon o Cardfight!! . Offriamo anche accessori di noti produttori come Ultra Pro o Dragon Shield. I nostri clienti sono i rivenditori, che cercano un servizio eccellente, prezzi competitivi e uno standard di qualità elevato. Approfitta del nostro servizio di prima classe, dei nostri preventivi senza rivali e della consegna rapida e senza problemi. In questo sito vendiamo solo a rivenditori o altri distributori. Non siamo autorizzati a vendere direttamente ai clienti finali e siamo quindi strettamente Business to Business ("B2B"). Se sei un rivenditore che desidera espandere il tuo portafoglio prodotti, registrati e dopo aver confermato il tuo stato commerciale ti garantiremo l'accesso ai nostri prezzi e livelli di stock.