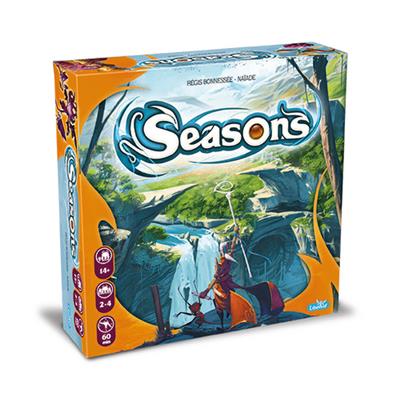 Codice

46885

Tipologia

Lingua
I prezzi sono visibili solo agli utenti registrati e autorizzati
Gioco da tavolo in italiano
Un grande ritorno!
I più grandi maghi del regno si sono dati appuntamento nel cuore della foresta di Argos, ove si svolgerà il leggendario torneo delle Dodici Stagioni. Alla fine dei tre anni di competizione, solamente uno tra i numerosi duellanti verrà designato come nuovo arcimago del regno di Xidit.
Prendete posto, stregoni! Armatevi dei vostri ancestrali oggetti magici, invocate al vostro fianco i famigli più fidati e preparatevi ad affrontare la sfida!
Seasons si svolge in due fasi di gioco distinte.
Nella prima fase, i giocatori selezionano 9 carte potere, contemporaneamente ai propri avversari, tramite una meccanica di draft. Queste ultime andranno a determinare la loro strategia per il resto della partita.
Nella seconda fase, i giocatori entrano in sintonia con le stagioni, , al fine di determinare il miglior gruppo di azioni offerte dai dadi durante ogni round.
Si procureranno energie, invocheranno oggetti magici e famigli e accumuleranno cristalli a sufficienza e simboli di prestigio per diventare il mago più illustre del reame.
MS Distribuzione
Ms Distribuzione (Magic Store srl) è un distributore italiano che vende giochi di carte collezionabili e fantasy (TCG) come Magic: The Gathering, Yu-Gi-Oh!, Pokemon o Cardfight!! . Offriamo anche accessori di noti produttori come Ultra Pro o Dragon Shield. I nostri clienti sono i rivenditori, che cercano un servizio eccellente, prezzi competitivi e uno standard di qualità elevato. Approfitta del nostro servizio di prima classe, dei nostri preventivi senza rivali e della consegna rapida e senza problemi. In questo sito vendiamo solo a rivenditori o altri distributori. Non siamo autorizzati a vendere direttamente ai clienti finali e siamo quindi strettamente Business to Business ("B2B"). Se sei un rivenditore che desidera espandere il tuo portafoglio prodotti, registrati e dopo aver confermato il tuo stato commerciale ti garantiremo l'accesso ai nostri prezzi e livelli di stock.