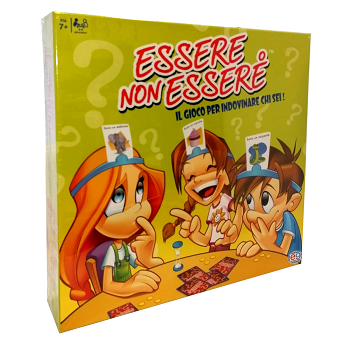 Codice

100519

Tipologia

Lingua
I prezzi sono visibili solo agli utenti registrati e autorizzati
Gioco da tavolo in italiano
ll gioco per indovinare che sei.
Tutti lo sanno tranne te.
Scegliete una carta dal mazzo e mettetela in testa senza guardarla. A turno fate partire la clessidra e iniziate a fare delle domande agli avversari ma state attenti, loro potranno rispondere solo"sì'" oppure "no".
Sembra facile... invece non riuscirete a scoprire così in fretta chi siete.
Se ci riuscite ed il tempo non è ancora terminato prendete un'altra carta, altrimenti il turno passa al giocatore successivo. Ogni volta che indovinate mettete uno dei gettoni sul banco.
Il primo giocatore a restare senza gettoni è il vincitore.
MS Distribuzione
Ms Distribuzione (Magic Store srl) è un distributore italiano che vende giochi di carte collezionabili e fantasy (TCG) come Magic: The Gathering, Yu-Gi-Oh!, Pokemon o Cardfight!! . Offriamo anche accessori di noti produttori come Ultra Pro o Dragon Shield. I nostri clienti sono i rivenditori, che cercano un servizio eccellente, prezzi competitivi e uno standard di qualità elevato. Approfitta del nostro servizio di prima classe, dei nostri preventivi senza rivali e della consegna rapida e senza problemi. In questo sito vendiamo solo a rivenditori o altri distributori. Non siamo autorizzati a vendere direttamente ai clienti finali e siamo quindi strettamente Business to Business ("B2B"). Se sei un rivenditore che desidera espandere il tuo portafoglio prodotti, registrati e dopo aver confermato il tuo stato commerciale ti garantiremo l'accesso ai nostri prezzi e livelli di stock.