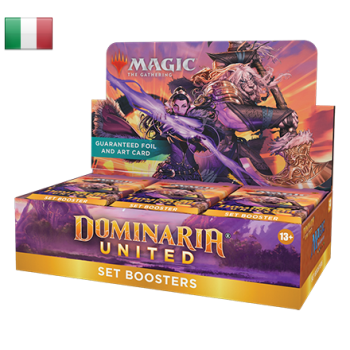 Codice

115256

Tipologia

Lingua

Scadenza preordine

01/08/2022

Se l'ordine viene effettuato dopo la scadenza indicata
non sarà garantita la consegna della quantità richiesta.
I prezzi sono visibili solo agli utenti registrati e autorizzati
Magic: The Gathering Dominaria United Set Booster Displays | 30 Packs
• 12 Magic: The Gathering cards per booster
• Best MTG booster to open just for fun
• 1–4 cards of rarity Rare or higher in every pack
• At least 1 Legendary Creature and 1 Traditional Foil card in every pack
• Return to Magic's home plane in a set full of your favorite MTG legends and heroes
Each Dominaria United Set Booster contains 12 Magic cards, 1 Art Card, and 1 token/ad card or card from "The List" (a special card from Magic's history—found in 25% of packs).
Every pack includes a combination of 1–4 card(s) of rarity Rare or higher and 4–7 Uncommon, 3–6 Common, and 1 Land cards. Traditional Foil Land replaces Land card in 21% of Set Boosters. Foil-Stamped Signature Art Card replaces Art Card in 10% of Set Boosters. Traditional Foil Borderless Mythic Rare Planeswalker in <1% of boosters.
MS Distribuzione
Ms Distribuzione (Magic Store srl) è un distributore italiano che vende giochi di carte collezionabili e fantasy (TCG) come Magic: The Gathering, Yu-Gi-Oh!, Pokemon o Cardfight!! . Offriamo anche accessori di noti produttori come Ultra Pro o Dragon Shield. I nostri clienti sono i rivenditori, che cercano un servizio eccellente, prezzi competitivi e uno standard di qualità elevato. Approfitta del nostro servizio di prima classe, dei nostri preventivi senza rivali e della consegna rapida e senza problemi. In questo sito vendiamo solo a rivenditori o altri distributori. Non siamo autorizzati a vendere direttamente ai clienti finali e siamo quindi strettamente Business to Business ("B2B"). Se sei un rivenditore che desidera espandere il tuo portafoglio prodotti, registrati e dopo aver confermato il tuo stato commerciale ti garantiremo l'accesso ai nostri prezzi e livelli di stock.