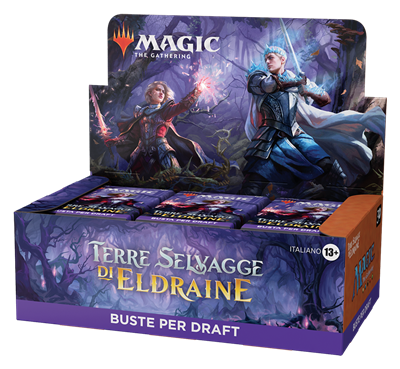 Codice

115929

Tipologia

Lingua

Rientro

Disponibile da settembre 2023

Scadenza preordine

21/07/2023

Se l'ordine viene effettuato dopo la scadenza indicata
non sarà garantita la consegna della quantità richiesta.
I prezzi sono visibili solo agli utenti registrati e autorizzati
Eldraine è un piano di meraviglioso caos e contraddizioni: i tuoi giocatori saranno invitati a iniziare la loro avventura da libro delle fiabe, avvolti in una fiaba fantastica con un colpo di scena per spezzare la maledizione di un sonno senza fine.
I Draft Boosters sono i booster ideali per il draft. Durante gli eventi di Booster Draft, i giocatori strategizzano al volo, selezionando nuove carte man mano che arrivano nelle loro mani per costruire un potente mazzo che annienta i loro avversari. Una confezione di Draft Booster può offrire a un gruppo di otto giocatori un'esperienza di draft incredibile.
La tua prossima avventura ti attende! Questa Scatola di Draft Boosters Wilds of Eldraine contiene 36 Draft Boosters Wilds of Eldraine. Ogni Draft Booster contiene 15 carte e 1 token/scheda pubblicitaria, tra cui 1-2 carte di rarità rara o superiore, 3-4 non comuni, 9 comuni e 1 carta Terra (terra con arte completa in un terzo dei booster). Ogni confezione contiene almeno 1 carta senza bordi di rarità non comune o superiore e una carta Tradizionale Foil di qualsiasi rarità sostituisce una comune in un terzo dei booster.
Contenuto:
36 Wilds of Eldraine MTG Draft Boosters
15 carte Magic: The Gathering per booster
1 carta di rarità rara o superiore in ogni pacchetto
3-4 carte non comuni
9 carte comuni
1 carta Terra (terra full-art in un terzo dei booster)
Almeno 1 carta Foil rimpiazza una Comune nel 33% dei pacchetti.
MS Distribuzione
Ms Distribuzione (Magic Store srl) è un distributore italiano che vende giochi di carte collezionabili e fantasy (TCG) come Magic: The Gathering, Yu-Gi-Oh!, Pokemon o Cardfight!! . Offriamo anche accessori di noti produttori come Ultra Pro o Dragon Shield. I nostri clienti sono i rivenditori, che cercano un servizio eccellente, prezzi competitivi e uno standard di qualità elevato. Approfitta del nostro servizio di prima classe, dei nostri preventivi senza rivali e della consegna rapida e senza problemi. In questo sito vendiamo solo a rivenditori o altri distributori. Non siamo autorizzati a vendere direttamente ai clienti finali e siamo quindi strettamente Business to Business ("B2B"). Se sei un rivenditore che desidera espandere il tuo portafoglio prodotti, registrati e dopo aver confermato il tuo stato commerciale ti garantiremo l'accesso ai nostri prezzi e livelli di stock.