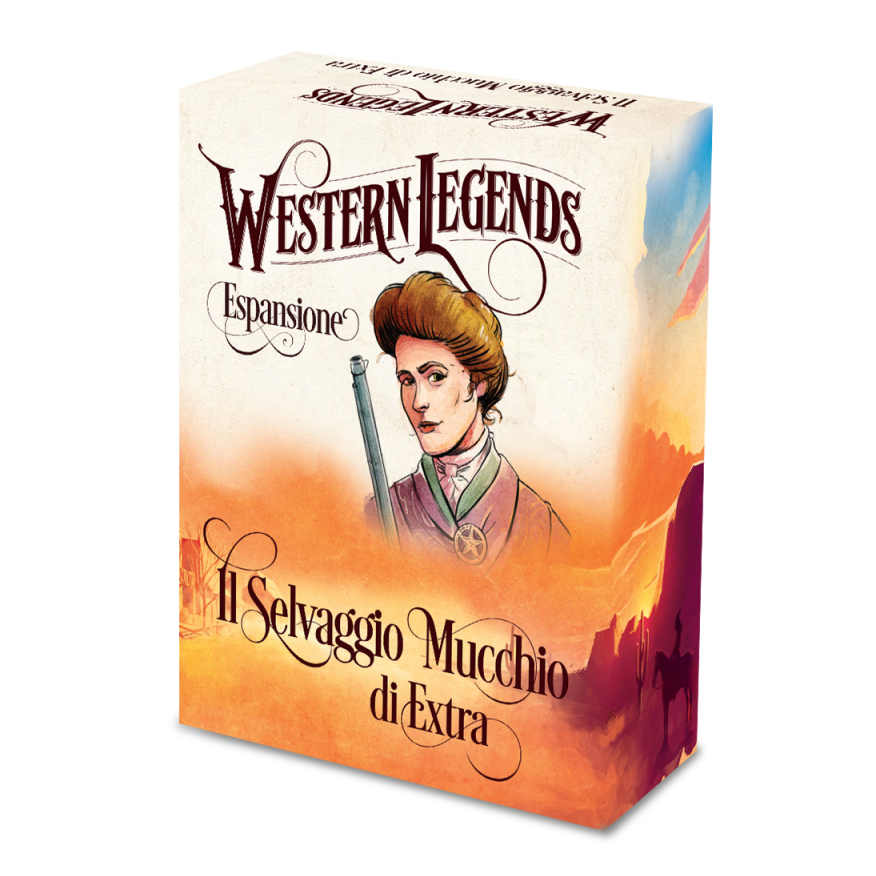 Codice

115618

Tipologia

Lingua

Preordine

Disponibile dal 29 settembre
I prezzi sono visibili solo agli utenti registrati e autorizzati
GIOCO BASE + ESPANSIONE ANTE UP SONO NECESSARI
Questa espansione dà ancora più varietà al gioco aggiungendo nuove carte Storia, le varianti carte Fama, carte Gang/Posse, la variante Sceriffo, la variante Uomo in Nero, Eventi Unici e Oggetti Leggendari.
Alcuni componenti del Selvaggio Mucchio di Extra sono compatibili solo con alcune espansioni di Western Legends, come indicato di seguito:
Carte Personaggio, carte Evento Unico, segnalini Evento, carte Treno, segnalini Frontiera (solo se giocate con Western Legends: Ante Up).
Carte Storia (se non giocate con Western Legends: Ante Up, rimuovete le 17 carte con il nuovo requisito, vedi Carte Storia nella prossima pagina).
Carte Uomo in Nero (se non giocate con Western Legends: Ante Up, rimuovete le carte Uomo in Nero 16, 20 e 21).
Carte Fama (se non giocate con Western Legends: Ante Up, rimuovete le carte Sulla Bocca di Tutti, Imbroglione e Pioniere).
Carte Bandito (solo se giocate con la variante Carte Bandito dell'espansione Per un Pugno di Extra).
Cod. EAN: 8051772020200
MS Distribuzione
Ms Distribuzione (Magic Store srl) è un distributore italiano che vende giochi di carte collezionabili e fantasy (TCG) come Magic: The Gathering, Yu-Gi-Oh!, Pokemon o Cardfight!! . Offriamo anche accessori di noti produttori come Ultra Pro o Dragon Shield. I nostri clienti sono i rivenditori, che cercano un servizio eccellente, prezzi competitivi e uno standard di qualità elevato. Approfitta del nostro servizio di prima classe, dei nostri preventivi senza rivali e della consegna rapida e senza problemi. In questo sito vendiamo solo a rivenditori o altri distributori. Non siamo autorizzati a vendere direttamente ai clienti finali e siamo quindi strettamente Business to Business ("B2B"). Se sei un rivenditore che desidera espandere il tuo portafoglio prodotti, registrati e dopo aver confermato il tuo stato commerciale ti garantiremo l'accesso ai nostri prezzi e livelli di stock.