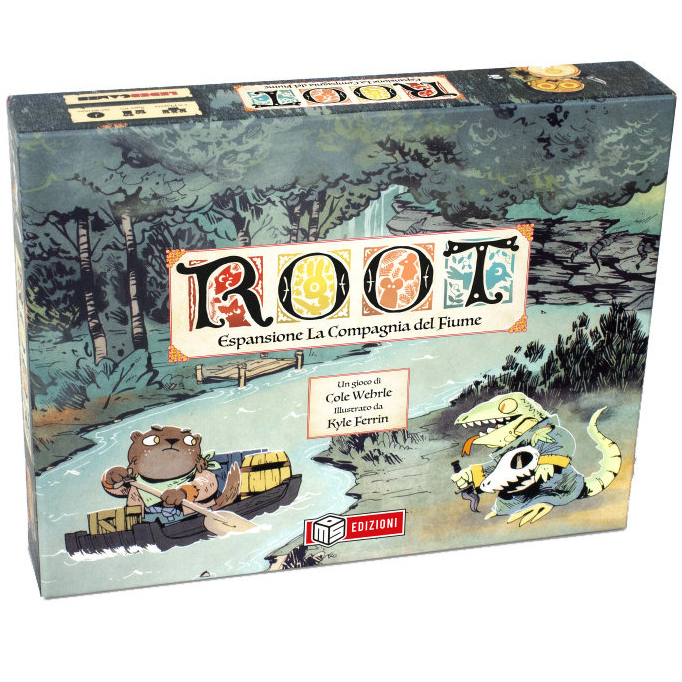 Tipologia

Lingua
I prezzi sono visibili solo agli utenti registrati e autorizzati
Espansione per Root in italiano - nuova ristampa
La Compagnia del Fiume è un'espansione per il gioco asimmetrico di Root che introduce due nuove fazioni alle quattro già presenti nel gioco base: i Mercanti del Fiume ed il Culto della Lucertola. Oltre ad aumentare il numero massimo di giocatori fino a 6, questi nuovi personaggi vi permetteranno di sperimentare stili di gioco completamente diversi, stravolgendo l'equilibrio delle fazioni del gioco base con meccaniche sempre più curiose e stimolanti. Troverete inoltre una modalità di gioco cooperativo che vi consentirà di giocare da 1 a 6 giocatori insieme.
Root prosegue la tradizione di giochi asimmetrici dell'ormai celebre Leder Games. Stavolta avrete l'occasione di vestire i panni di una delle fazioni animalesche che si contendono il dominio di una valle dagli abitanti decisamente insoliti. Ognuna delle fazioni gioca in modo diverso, sia dal punto di vista delle azioni a sua disposizione, che per quanto riguarda il metodo di vittoria.

In questa prima espansione troverete le seguenti fazioni:
SETTA DELLE LUCERTOLE – Indottrina le creature dei boschi emarginate e diffondi il tuo credo ovunque.
LA COMPAGNIA DEL FIUME – Sfrutta la crisi. Offri nuovi servizi ed espandi il tuo commercio per assicurarti lo status di re dei mercanti.
SECONDO VAGABONDO – Entra in competizione con un Vagabondo rivale per ottenere fama e fortuna mentre le altre fazioni tentano di consolidare il proprio potere.
MARCHESA MECCANICA – Dichiarate guerra alla Marchesa Meccanica in modalità competitiva o cooperativa!
Contenuto:
Nuovi guerrieri aggiuntivi per giocare fino a sei giocatori.
Tre nuove Varianti del Vagabondo.
Partite Cooperative e Competitive con un Giocatore Automatizzato.
Cod EAN: 8051772020095
MS Distribuzione
Ms Distribuzione (Magic Store srl) è un distributore italiano che vende giochi di carte collezionabili e fantasy (TCG) come Magic: The Gathering, Yu-Gi-Oh!, Pokemon o Cardfight!! . Offriamo anche accessori di noti produttori come Ultra Pro o Dragon Shield. I nostri clienti sono i rivenditori, che cercano un servizio eccellente, prezzi competitivi e uno standard di qualità elevato. Approfitta del nostro servizio di prima classe, dei nostri preventivi senza rivali e della consegna rapida e senza problemi. In questo sito vendiamo solo a rivenditori o altri distributori. Non siamo autorizzati a vendere direttamente ai clienti finali e siamo quindi strettamente Business to Business ("B2B"). Se sei un rivenditore che desidera espandere il tuo portafoglio prodotti, registrati e dopo aver confermato il tuo stato commerciale ti garantiremo l'accesso ai nostri prezzi e livelli di stock.