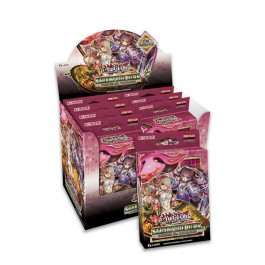 (Articolo soggetto ad allocazione)
Tipologia

Lingua

Scadenza preordine

27/01/2023

Se l'ordine viene effettuato dopo la scadenza indicata
non sarà garantita la consegna della quantità richiesta.
I prezzi sono visibili solo agli utenti registrati e autorizzati
Fai attenzione a dove cammini, il pavimento può ingannare ed è pieno di 'Trap Holes' nel nuovo Structure Deck di Traptix!
La ben nota strategia 'Traptix' da Yu-Gi-oh! MASTER DUEL ha ora il suo Structure Deck per gioco di carte Collezionabili Yu-gi-oh! Il tema Traptix è formato da piante di tipo ERBA e mostri di tipo insetto che possono sembrare carini, ma solo in apparenza! Se li guardi da vicino ti accorgerai di quanto sono in realtà micidiali.
Questa strategia ruota attorno al mostro "Traptrix" che ti permette di attivare le potenti "Trap Hole", ovvero carte trappola che possono far finire i mostri del tuo avversario direttamente fuori da gioco! In questo Structure Deck troverai carte chiave "Traptrix" e carte "Trap Hole" vecchie e nuove!
MS Distribuzione
Ms Distribuzione (Magic Store srl) è un distributore italiano che vende giochi di carte collezionabili e fantasy (TCG) come Magic: The Gathering, Yu-Gi-Oh!, Pokemon o Cardfight!! . Offriamo anche accessori di noti produttori come Ultra Pro o Dragon Shield. I nostri clienti sono i rivenditori, che cercano un servizio eccellente, prezzi competitivi e uno standard di qualità elevato. Approfitta del nostro servizio di prima classe, dei nostri preventivi senza rivali e della consegna rapida e senza problemi. In questo sito vendiamo solo a rivenditori o altri distributori. Non siamo autorizzati a vendere direttamente ai clienti finali e siamo quindi strettamente Business to Business ("B2B"). Se sei un rivenditore che desidera espandere il tuo portafoglio prodotti, registrati e dopo aver confermato il tuo stato commerciale ti garantiremo l'accesso ai nostri prezzi e livelli di stock.