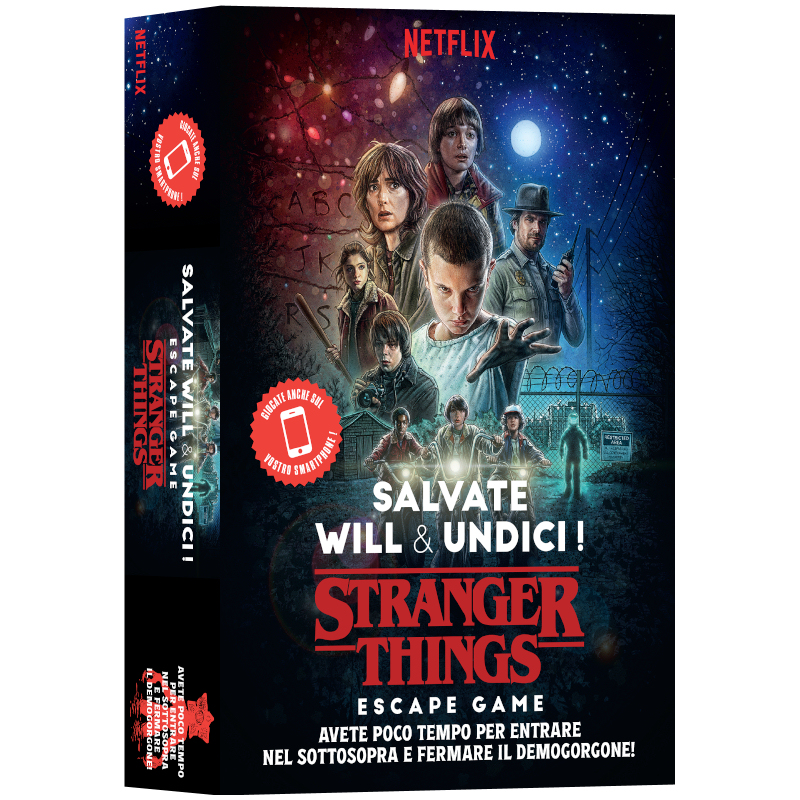 Tipologia

Lingua
I prezzi sono visibili solo agli utenti registrati e autorizzati
Mentre strani fenomeni turbano la quiete della cittadina di Hawkins, il vostro amico Will Byers sparisce senza lasciare traccia.
La tensione è altissima e il vostro gruppo di amici deve assolutamente ritrovarlo prima che sia troppo tardi!
Fate attenzione, un mostro assetato di sangue è fuggito dal laboratorio e presto le vostre strade potrebbero incrociarsi.
Un Escape Game emozionante, colmo di riferimenti alla serie Stranger Things!
Esplorerete la città di Hawkins per rivivere i momenti più importanti della storia assieme ai vostri personaggi preferiti.
Che l'avventura abbia inizio!
Contenuto:
1 Libro della Missione
10 Carte Personaggio
15 Carte Fase
35 Carte Indizio
1 Mappa di Hawkins
- Da 2 a 8 giocatori dai 14 anni in su.
- Giocate anche sul vostro smartphone collegandovi alla pagina web dedicata

Stranger Things: TM/© Netflix. 2022. Used with permission
Cod. ISBN: 9788831382502
MS Distribuzione
Ms Distribuzione (Magic Store srl) è un distributore italiano che vende giochi di carte collezionabili e fantasy (TCG) come Magic: The Gathering, Yu-Gi-Oh!, Pokemon o Cardfight!! . Offriamo anche accessori di noti produttori come Ultra Pro o Dragon Shield. I nostri clienti sono i rivenditori, che cercano un servizio eccellente, prezzi competitivi e uno standard di qualità elevato. Approfitta del nostro servizio di prima classe, dei nostri preventivi senza rivali e della consegna rapida e senza problemi. In questo sito vendiamo solo a rivenditori o altri distributori. Non siamo autorizzati a vendere direttamente ai clienti finali e siamo quindi strettamente Business to Business ("B2B"). Se sei un rivenditore che desidera espandere il tuo portafoglio prodotti, registrati e dopo aver confermato il tuo stato commerciale ti garantiremo l'accesso ai nostri prezzi e livelli di stock.