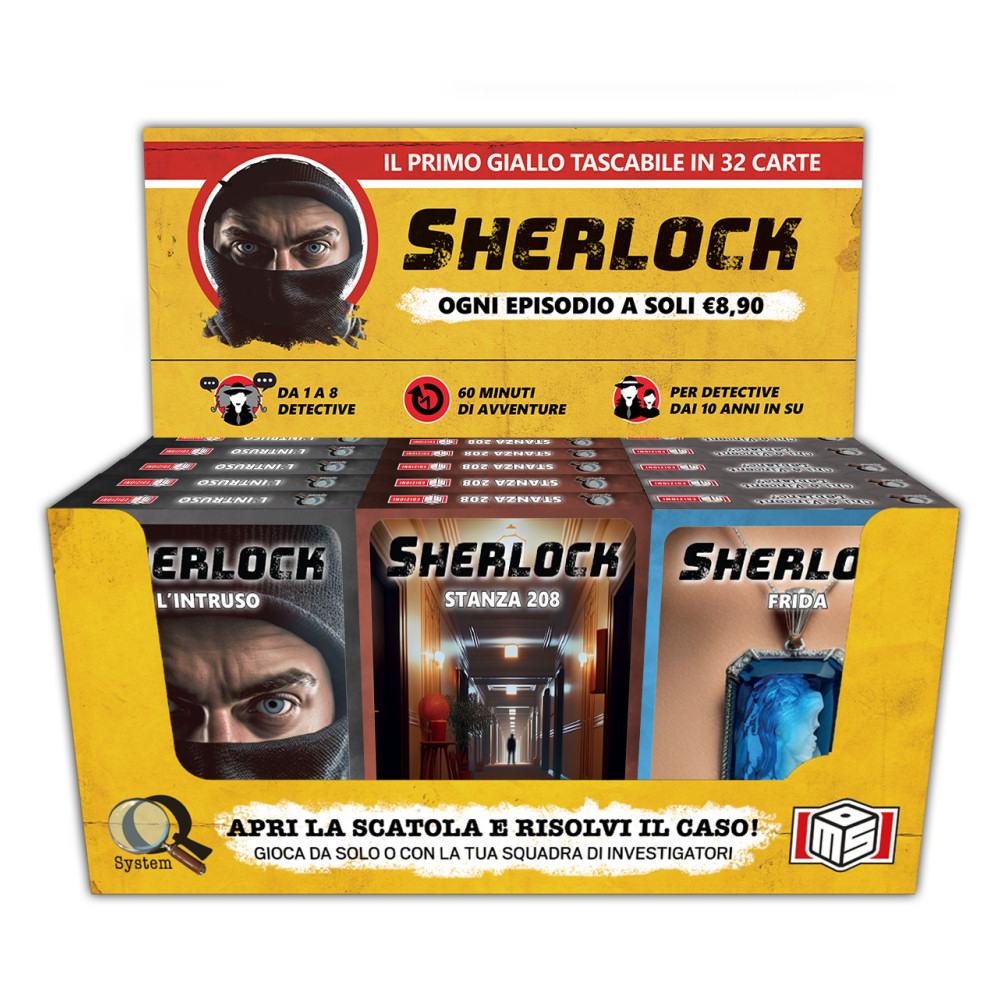 Codice

115646

Tipologia

Lingua

Preordine

Disponibile da settembre 2023
I prezzi sono visibili solo agli utenti registrati e autorizzati
Gioco da tavolo in italiano - Display da 15 pezzi (3 EPISODI PER 5 PZ CAD.)
Sherlock è un innovativo sistema di gioco cooperativo che ti trasporterà in un mistero che deve essere risolto, in gruppo o da solo.
Iniziando da un breve introduzione e da una prima carta, i giocatori faranno parte di una squadra investigativa impegnata su un particolare caso.
Seguendo qualche semplice regola, dovrete analizzare gli indizi, discutere le teorie e usare la vostra deduzione per poter risolvere il mistero.
Nella serie Sherlock misurerete la vostra capacità investigativa con il grande detective. Sarete alla sua altezza o le vostre doti investigative saranno pari a quelle dell'ispettore Lestrade?
Ogni caso è unico ed irripetibile e pertanto potrà essere giocato una sola volta. Ma non preoccupatevi! Vedere un gruppo di amici districarsi tra indizi e teorie e altrettanto gratificante come lo è risolvere un caso
MS Distribuzione
Ms Distribuzione (Magic Store srl) è un distributore italiano che vende giochi di carte collezionabili e fantasy (TCG) come Magic: The Gathering, Yu-Gi-Oh!, Pokemon o Cardfight!! . Offriamo anche accessori di noti produttori come Ultra Pro o Dragon Shield. I nostri clienti sono i rivenditori, che cercano un servizio eccellente, prezzi competitivi e uno standard di qualità elevato. Approfitta del nostro servizio di prima classe, dei nostri preventivi senza rivali e della consegna rapida e senza problemi. In questo sito vendiamo solo a rivenditori o altri distributori. Non siamo autorizzati a vendere direttamente ai clienti finali e siamo quindi strettamente Business to Business ("B2B"). Se sei un rivenditore che desidera espandere il tuo portafoglio prodotti, registrati e dopo aver confermato il tuo stato commerciale ti garantiremo l'accesso ai nostri prezzi e livelli di stock.