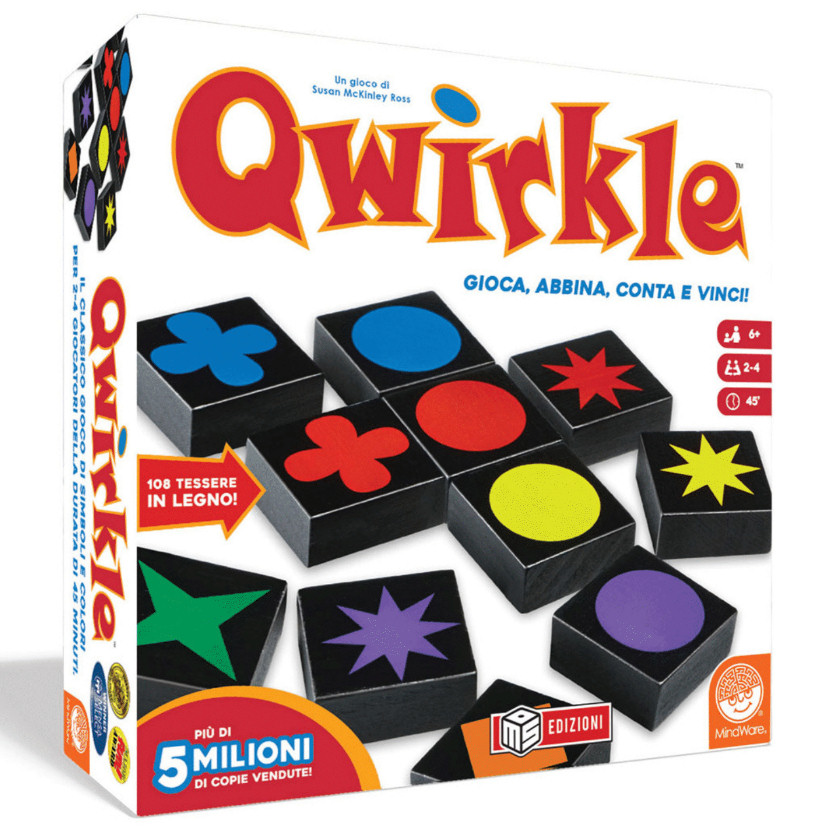 Tipologia

Lingua
I prezzi sono visibili solo agli utenti registrati e autorizzati
GIOCA, ABBINA, CONTA e VINCI!
Un avvincente gioco di simboli e colori per tutte le età. Qwirkle è un gioco di posizionamento tessere che allena la concentrazione e sviluppa il pensiero visuale. La sua semplicità, unita alla grande profondità strategica, rende Qwirkle un classico adatto a tutte le età.
Le regole di Qwirkle sono davvero poche! Dovete ottenere punti creando sequenze di tessere dello stesso colore oppure con lo stesso simbolo, e se riuscite a creare una sequenza di sei tessere differenti... Avete fatto Qwirkle!
CONTENUTO: 108 Tessere in legno, 1 Sacchetto in tessuto, 1 Regolamento.
Per 2-4 giocatori, età 6+, durata circa 30/45'

Prezzo suggerito al pubblico € 34,90
Cod. EAN: 8051772020101
MS Distribuzione
Ms Distribuzione (Magic Store srl) è un distributore italiano che vende giochi di carte collezionabili e fantasy (TCG) come Magic: The Gathering, Yu-Gi-Oh!, Pokemon o Cardfight!! . Offriamo anche accessori di noti produttori come Ultra Pro o Dragon Shield. I nostri clienti sono i rivenditori, che cercano un servizio eccellente, prezzi competitivi e uno standard di qualità elevato. Approfitta del nostro servizio di prima classe, dei nostri preventivi senza rivali e della consegna rapida e senza problemi. In questo sito vendiamo solo a rivenditori o altri distributori. Non siamo autorizzati a vendere direttamente ai clienti finali e siamo quindi strettamente Business to Business ("B2B"). Se sei un rivenditore che desidera espandere il tuo portafoglio prodotti, registrati e dopo aver confermato il tuo stato commerciale ti garantiremo l'accesso ai nostri prezzi e livelli di stock.