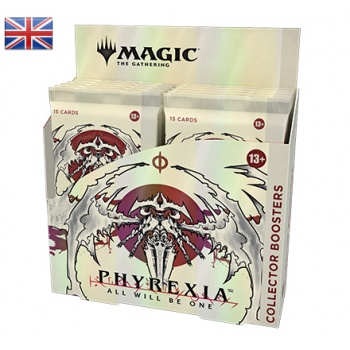 Codice

115563

Tipologia

Lingua

Scadenza preordine

06/01/2023

Se l'ordine viene effettuato dopo la scadenza indicata
non sarà garantita la consegna della quantità richiesta.
I prezzi sono visibili solo agli utenti registrati e autorizzati
"Compleat" your collection with the finest cards the Phyrexians have at their command. Each booster contains borderless cards, showcase cards, gorgeous foils, and a card with a special treatment that celebrates the glory of Phyrexia.
The Phyrexia: All Will Be One Collector Booster Box contains 12 Phyrexia: All Will Be One Collector Boosters. Each Collector Booster contains 15 Magic: The Gathering cards and 1 Traditional Foil double-sided token, with a combination of 5–6 cards of rarity Rare or higher and 2–5 Uncommon, 4–7 Common, and 1 Land cards. Every pack contains a total of 10 Traditional Foil cards. Traditional Foil Borderless Mythic Planeswalker in 3% of boosters.
Contents:
12 Phyrexia: All Will Be One MTG Collector Boosters
15 Magic cards + 1 foil token in each booster
Borderless cards, showcase cards, and a special treatment that celebrates the glory of Phyrexia in every pack
5–6 cards of rarity Rare or higher in every pack
10 Traditional Foil cards in every pack
Glory to Phyrexia—resist the Phyrexian invasion or forfeit your flesh to join them in perfection
MS Distribuzione
Ms Distribuzione (Magic Store srl) è un distributore italiano che vende giochi di carte collezionabili e fantasy (TCG) come Magic: The Gathering, Yu-Gi-Oh!, Pokemon o Cardfight!! . Offriamo anche accessori di noti produttori come Ultra Pro o Dragon Shield. I nostri clienti sono i rivenditori, che cercano un servizio eccellente, prezzi competitivi e uno standard di qualità elevato. Approfitta del nostro servizio di prima classe, dei nostri preventivi senza rivali e della consegna rapida e senza problemi. In questo sito vendiamo solo a rivenditori o altri distributori. Non siamo autorizzati a vendere direttamente ai clienti finali e siamo quindi strettamente Business to Business ("B2B"). Se sei un rivenditore che desidera espandere il tuo portafoglio prodotti, registrati e dopo aver confermato il tuo stato commerciale ti garantiremo l'accesso ai nostri prezzi e livelli di stock.