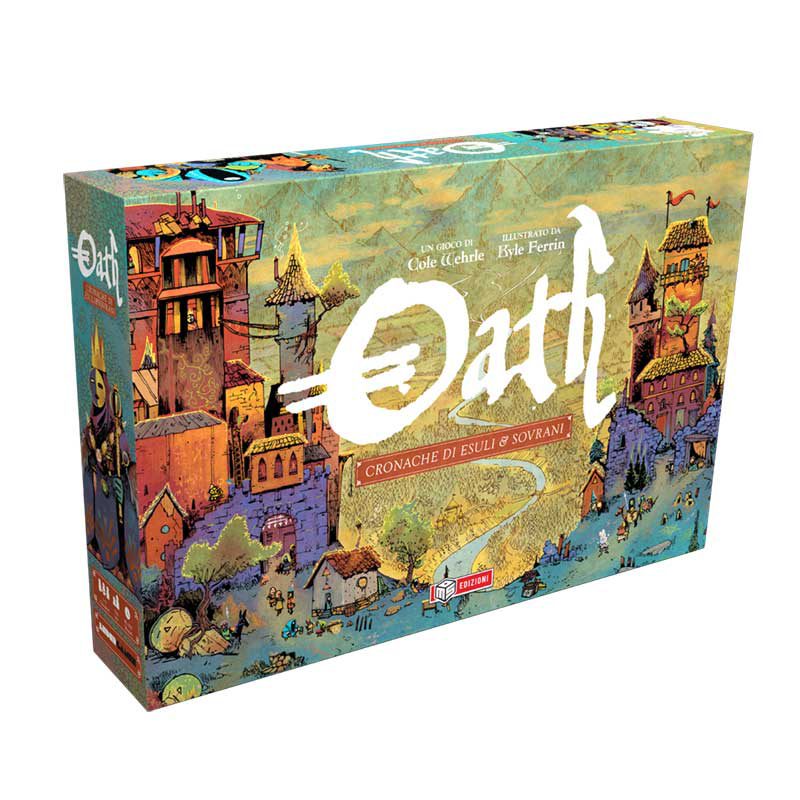 Tipologia

Lingua
I prezzi sono visibili solo agli utenti registrati e autorizzati
Oath è un gioco fondato sugli equilibri di potere dove viene narrata la storia di ciò che è stato dimenticato e di coloro che sono stati lasciati indietro. Scriverete le cronache di un'antica terra governata dal Cancelliere, dominatore dal pugno di ferro e maestro nell'arte della persuasione, abitata da Cittadini con la segreta ambizione di diventare suoi successori e da disperati Esuli in continua lotta per rovesciare l'Impero.
Iniziate subito a giocare. Se non amate i regolamenti troppo lunghi, potete imparare velocemente a giocare utilizzando la preparazione sulle carte e la guida passo-passo!
Un mondo immenso e avvincente. Oath contiene centinaia di carte con illustrazioni originali e straordinari poteri in grado di stupire anche i giocatori più esperti
Oath ricorda. Ogni partita è legata a quella precedente, in una campagna sempre in evoluzione pensata per accogliere anche nuovi giocatori. Costruirete grandiosi edifici e marcerete sulle loro rovine, influenzerete il destino degli abitanti di Oath plasmando, dopo ogni partita, le fondamenta stesse di questo fantastico mondo.
Cod. EAN: 8051772020057
MS Distribuzione
Ms Distribuzione (Magic Store srl) è un distributore italiano che vende giochi di carte collezionabili e fantasy (TCG) come Magic: The Gathering, Yu-Gi-Oh!, Pokemon o Cardfight!! . Offriamo anche accessori di noti produttori come Ultra Pro o Dragon Shield. I nostri clienti sono i rivenditori, che cercano un servizio eccellente, prezzi competitivi e uno standard di qualità elevato. Approfitta del nostro servizio di prima classe, dei nostri preventivi senza rivali e della consegna rapida e senza problemi. In questo sito vendiamo solo a rivenditori o altri distributori. Non siamo autorizzati a vendere direttamente ai clienti finali e siamo quindi strettamente Business to Business ("B2B"). Se sei un rivenditore che desidera espandere il tuo portafoglio prodotti, registrati e dopo aver confermato il tuo stato commerciale ti garantiremo l'accesso ai nostri prezzi e livelli di stock.