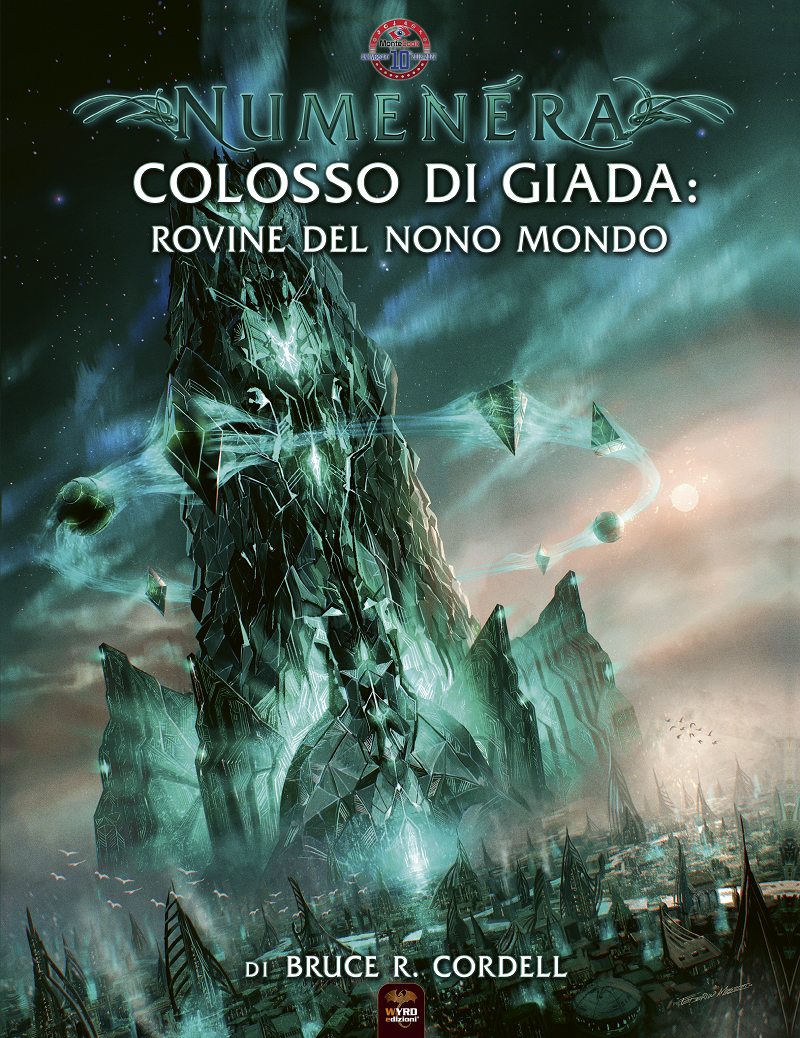 Tipologia

Lingua

Preordine

Disponibile da marzo 2023
I prezzi sono visibili solo agli utenti registrati e autorizzati
Supplemento per Numenera in italiano
Misteriose, possenti e solitamente pericolose, le vaste rovine dei mondi precedenti contengono segreti e meraviglie oltre ogni immaginazione. Esplorate una di queste gigantesche rovine, il Colosso di Giada, in dettaglio. Oppure createne una vostra, utilizzando il Sistema di Mappatura delle Rovine Numenera per costruire antichi siti grandi o piccoli, con tutte le meraviglie e le bizzarrie del Nono Mondo.
Questo libro include:
• Il Colosso di Giada, un enorme sito di un mondo precedente emerso di recente dalla terra. Affrontate il Nido degli Yovoki, percorrete la Via di Wranna o cercate il Cantico nel cuore del Labirinto Cremisi.
• Ballarad, una florida ma isolata cittadina, parzialmente distrutta dal Colosso. Esplorate le Fortezze a Specchio, commerciate al Mercato Fisso o cercate informazioni nella Chiesa del Sussurro.
• Il Sistema di Mappatura delle Rovine Numenera, un robusto motore per generare mappe e contenuti dei siti del mondo precedente. Espandete le aree inesplorate nelle avventure pubblicate, rendete il Colosso di Giada ancora più grande o create nuove misteriose e bizzarre rovine di un mondo precedente per la vostra campagna
• Nuove opzioni per i personaggi, inclusi nuovi focus e organizzazioni e nuove creature da incontrare.
• Ottimi consigli per creare nuove campagne che sfruttino al massimo la bizzarra ambientazione del Nono Mondo, nonché per integrare i siti di questo libro nelle vostre campagne in corso.
MS Distribuzione
Ms Distribuzione (Magic Store srl) è un distributore italiano che vende giochi di carte collezionabili e fantasy (TCG) come Magic: The Gathering, Yu-Gi-Oh!, Pokemon o Cardfight!! . Offriamo anche accessori di noti produttori come Ultra Pro o Dragon Shield. I nostri clienti sono i rivenditori, che cercano un servizio eccellente, prezzi competitivi e uno standard di qualità elevato. Approfitta del nostro servizio di prima classe, dei nostri preventivi senza rivali e della consegna rapida e senza problemi. In questo sito vendiamo solo a rivenditori o altri distributori. Non siamo autorizzati a vendere direttamente ai clienti finali e siamo quindi strettamente Business to Business ("B2B"). Se sei un rivenditore che desidera espandere il tuo portafoglio prodotti, registrati e dopo aver confermato il tuo stato commerciale ti garantiremo l'accesso ai nostri prezzi e livelli di stock.