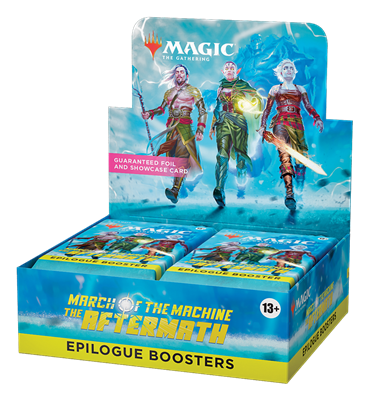 (Articolo soggetto ad allocazione)
Codice

115835

Tipologia

Lingua
I prezzi sono visibili solo agli utenti registrati e autorizzati
With the final showdown against the Phyrexians reaching its conclusion, the Multiverse will be forever
changed. March of the Machine: The Aftermath not only adds new cards to Standard (and beyond) but also
expands on the events of March of the Machine.
Contains:
5 Cards and 1 Premium Ad Card
MS Distribuzione
Ms Distribuzione (Magic Store srl) è un distributore italiano che vende giochi di carte collezionabili e fantasy (TCG) come Magic: The Gathering, Yu-Gi-Oh!, Pokemon o Cardfight!! . Offriamo anche accessori di noti produttori come Ultra Pro o Dragon Shield. I nostri clienti sono i rivenditori, che cercano un servizio eccellente, prezzi competitivi e uno standard di qualità elevato. Approfitta del nostro servizio di prima classe, dei nostri preventivi senza rivali e della consegna rapida e senza problemi. In questo sito vendiamo solo a rivenditori o altri distributori. Non siamo autorizzati a vendere direttamente ai clienti finali e siamo quindi strettamente Business to Business ("B2B"). Se sei un rivenditore che desidera espandere il tuo portafoglio prodotti, registrati e dopo aver confermato il tuo stato commerciale ti garantiremo l'accesso ai nostri prezzi e livelli di stock.