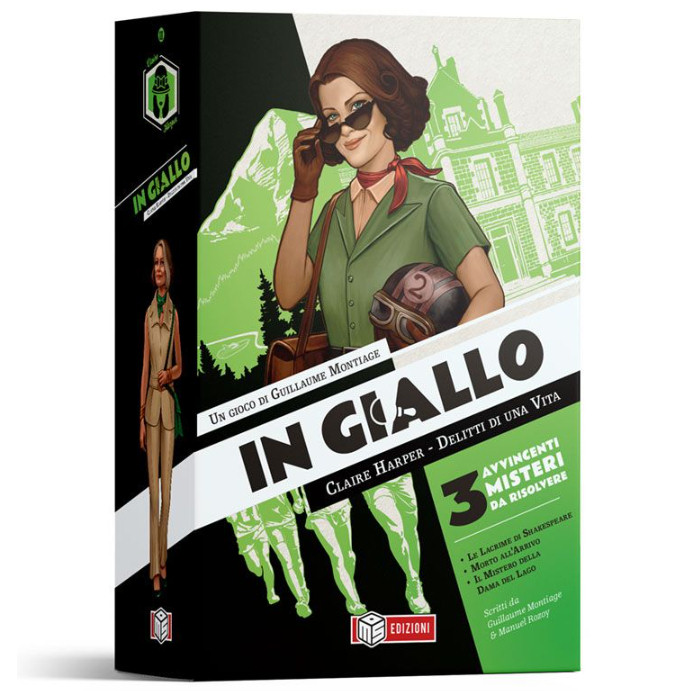 Codice

115552

Tipologia

Lingua
I prezzi sono visibili solo agli utenti registrati e autorizzati
IN GIALLO è un gioco cooperativo di investigazione.
Il gioco contiene 3 casi completi con trame coinvolgenti e personaggi profondi, proprio come nei romanzi di Agatha Christie.
INDAGA SULLA SCENA DEL CRIMINE - INTERROGA I TESTIMONI - RACCOGLI GLI INDIZI...
LE LACRIME DI SHAKESPEARE - 1921
MORTO ALL'ARRIVO - 1948
IL MISTERO DELLA DAMA DEL LAGO - 1971
RISOLVI IL MISTERO, PROPRIO COME IN UN ROMANZO GIALLO!
CONTENUTO (PER LE 3 INDAGINI):
• 167 carte grandi
• 3 dossier introduttivi
• 6 mappe e documenti
• 7 buste con le soluzioni
• 1 regolamento
AUTORE: Guillaume Montiage
ILLUSTRATORE: Emile Denis
Età 10+ / Durata 90' / Giocatori 1-6
Cod ISBN: 9788831382823
MS Distribuzione
Ms Distribuzione (Magic Store srl) è un distributore italiano che vende giochi di carte collezionabili e fantasy (TCG) come Magic: The Gathering, Yu-Gi-Oh!, Pokemon o Cardfight!! . Offriamo anche accessori di noti produttori come Ultra Pro o Dragon Shield. I nostri clienti sono i rivenditori, che cercano un servizio eccellente, prezzi competitivi e uno standard di qualità elevato. Approfitta del nostro servizio di prima classe, dei nostri preventivi senza rivali e della consegna rapida e senza problemi. In questo sito vendiamo solo a rivenditori o altri distributori. Non siamo autorizzati a vendere direttamente ai clienti finali e siamo quindi strettamente Business to Business ("B2B"). Se sei un rivenditore che desidera espandere il tuo portafoglio prodotti, registrati e dopo aver confermato il tuo stato commerciale ti garantiremo l'accesso ai nostri prezzi e livelli di stock.