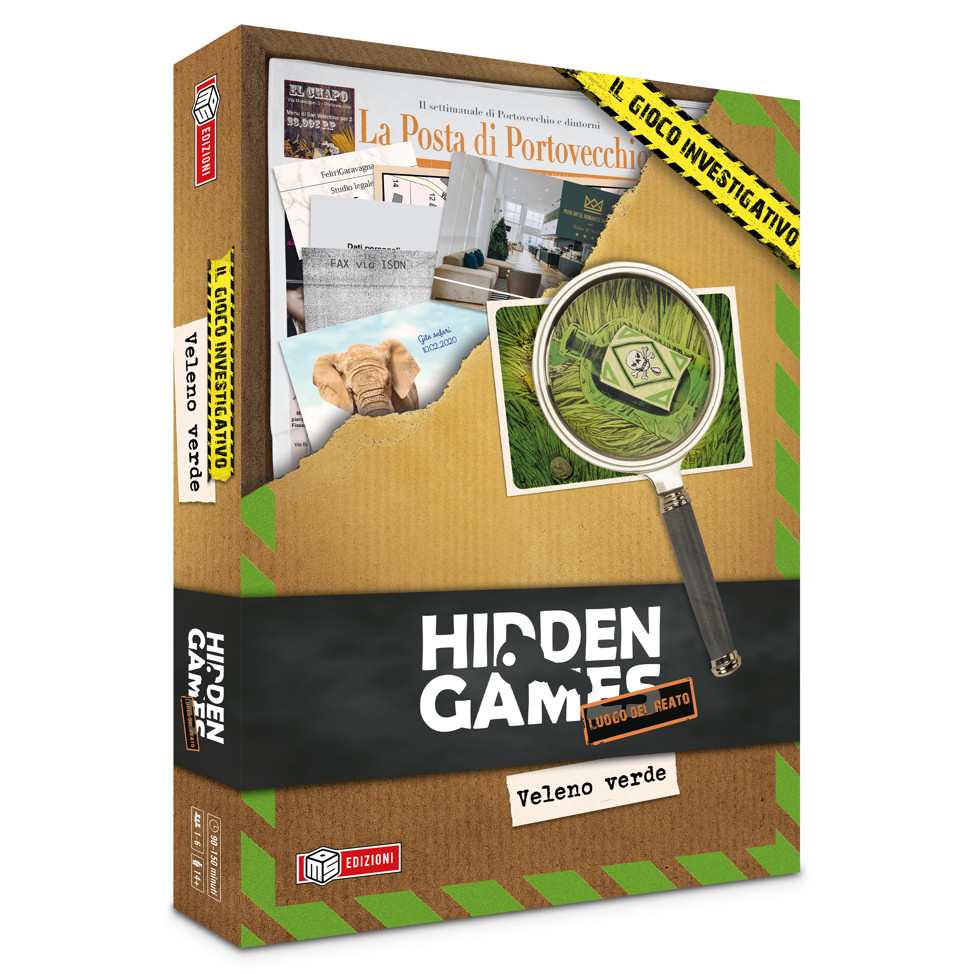 (Articolo soggetto ad allocazione)
Tipologia

Lingua
I prezzi sono visibili solo agli utenti registrati e autorizzati
Siamo felici di annunciare una nuova importante collaborazione con Hidden Games!
Hidden Games è un editore Tedesco che sviluppa e pubblica giochi investigativi di successo internazionale, progettati con cura e innovazione, dai casi profondi e immersivi che vi terranno inchiodati al tavolo da gioco. Questa partnership arricchisce il nostro catalogo di investigativi e ci proietta come punto di riferimento italiano per i giochi "Gialli".
La collaborazione debutterà a febbraio con l'uscita di Veleno Verde nella versione in scatola, perfetta per essere conservata nella vostra ludoteca.
In Veleno Verde, come detective privati sarete chiamati, tutti insieme, a risolvere un vero crimine!
Dovete esaminare gli atti, studiare le impronte digitali, controllare gli alibi e fare ricerche per poter incastrare l'assassino. Raccogliete le informazioni sul grande poster delle indagini per trarne le vostre conclusioni.
Una caccia multipiattaforma all'assassino!
Formando un team, dovrete analizzare lettere, valutare gli interrogatori audio di diversi sospettati, fare telefonate e anche ricerche in internet.
Confondete pure i limiti tra gioco e realtà!
Per le vostre ricerche durante le indagini, avrete bisogno dell'accesso a internet e di uno smartphone.
Un cadavere è stato portato a riva dalla corrente presso l'area di balneazione.
Poco tempo dopo un imputato era già dietro le sbarre.
Ma si tratta davvero del colpevole? Riuscirete a trovare la verità?
Prezzo al pubblico € 26,90 IVA Assolta
Cod. ISBN: 9788831382830
MS Distribuzione
Ms Distribuzione (Magic Store srl) è un distributore italiano che vende giochi di carte collezionabili e fantasy (TCG) come Magic: The Gathering, Yu-Gi-Oh!, Pokemon o Cardfight!! . Offriamo anche accessori di noti produttori come Ultra Pro o Dragon Shield. I nostri clienti sono i rivenditori, che cercano un servizio eccellente, prezzi competitivi e uno standard di qualità elevato. Approfitta del nostro servizio di prima classe, dei nostri preventivi senza rivali e della consegna rapida e senza problemi. In questo sito vendiamo solo a rivenditori o altri distributori. Non siamo autorizzati a vendere direttamente ai clienti finali e siamo quindi strettamente Business to Business ("B2B"). Se sei un rivenditore che desidera espandere il tuo portafoglio prodotti, registrati e dopo aver confermato il tuo stato commerciale ti garantiremo l'accesso ai nostri prezzi e livelli di stock.