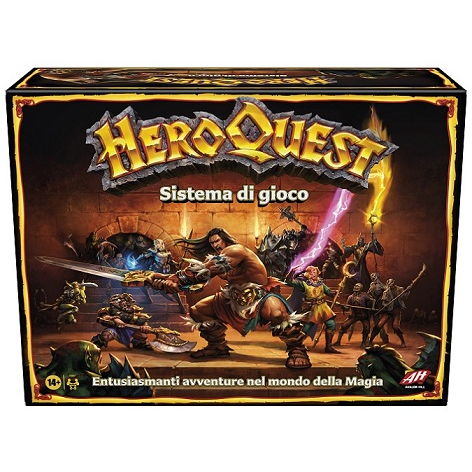 Tipologia

Lingua
I prezzi sono visibili solo agli utenti registrati e autorizzati
Gioco da tavolo in italiano - Nuova Edizione
Siete pronti?
Sta tornando HEROQUEST! In lingua italiana!
L'icona indiscussa del gioco di strategia, pezzo da collezione e pietra miliare del genere dungeon crawler, torna in grande stile dopo anni e anni di trepidante attesa.
Un gioco da tavolo semi-cooperativo in grado di unire magistralmente l'universo fantasy all'innovazione attraverso miniature e contenuti unici, inimitabili e senza tempo, in grado di catturare l'attenzione di tutti senza annoiare mai.
Un'opera d'arte a tutti gli effetti, con oltre 90 carte splendidamente disegnate che faranno volare l'immaginazione di qualsiasi giocatore, più di 65 miniature in dotazione, tutte altamente dettagliate, e ben 14 missioni, che vi permetteranno di creare storie sempre diverse e vivere entusiasmanti avventure nel fantastico mondo di HeroQuest!
Questo gioco da tavolo semi-cooperativo include pedine in miniatura altamente dettagliate su basi di 25 mm e oltre 90 carte illustrate che raffigurano tesori perduti, mostri orribili, antichi artefatti e potenti incantesimi per un'esperienza di gioco immersiva.
Gli eroi devono muoversi all'interno di un labirinto oscuro pieno di forze malvagie e mostri, con l'obiettivo di superare le 14 missioni e diventare sempre più potenti.
Le forze malvagie di Zargon, il Mago del Caos, minacciano gli eroi con trappole mortali, mostri terrificanti e altre numerose insidie. Ma gli eroi non si arrenderanno finchè non avranno sconfitto Zargon e dimostrato di essere gli eroi del Reame. I loro sforzi saranno sufficienti? Sarà il tempo a deciderlo.
Prendi decisioni sagge e previdenti, poiché i dadi possono essere malvagi e crudeli. Il successo e il fallimento, così come la vita e la morte, possono dipendere da un lancio di dadi. Uniti gli eroi stanno in piedi, divisi cadono.
Gli eroi possono arricchirsi con tesori dal valore inestimabile durante le loro missioni. Queste ricchezze possono essere usate per acquistare armi potenti, equipaggiamenti e armature protettive per lo scontro finale con Zargon.
Completa le 14 missioni per diventare l'eroe del Reame. L'avventura non termina mai. Il gioco permette di creare le proprie storie e intrecci sempre diversi, per una rigiocabilità infinita!
MS Distribuzione
Ms Distribuzione (Magic Store srl) è un distributore italiano che vende giochi di carte collezionabili e fantasy (TCG) come Magic: The Gathering, Yu-Gi-Oh!, Pokemon o Cardfight!! . Offriamo anche accessori di noti produttori come Ultra Pro o Dragon Shield. I nostri clienti sono i rivenditori, che cercano un servizio eccellente, prezzi competitivi e uno standard di qualità elevato. Approfitta del nostro servizio di prima classe, dei nostri preventivi senza rivali e della consegna rapida e senza problemi. In questo sito vendiamo solo a rivenditori o altri distributori. Non siamo autorizzati a vendere direttamente ai clienti finali e siamo quindi strettamente Business to Business ("B2B"). Se sei un rivenditore che desidera espandere il tuo portafoglio prodotti, registrati e dopo aver confermato il tuo stato commerciale ti garantiremo l'accesso ai nostri prezzi e livelli di stock.