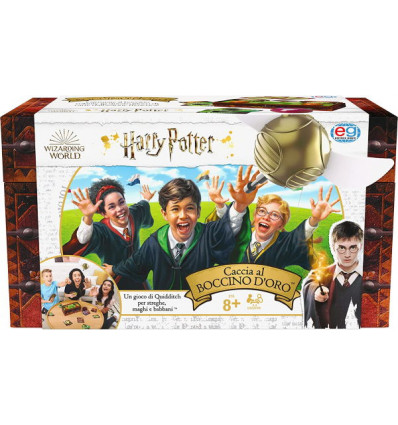 Codice

113303

Tipologia

Lingua
I prezzi sono visibili solo agli utenti registrati e autorizzati
Gioco da tavolo in italiano
Porta a casa tua tutta la velocità e l'eccitazione di una vera partita di Quidditch con "Harry Potter Caccia al Boccino d'oro", un gioco di Quidditch per streghe, maghi e babbani.
Tutti giocano nello stesso momento in cui le carte vengono rapidamente passate da giocatore a giocatore, ognuno cercando di costruire set e guadagnare punti.
Al centro dell'azione c'è una cassa di Quidditch aperta, con una Pluffa, due Bolidi e l'importantissimo Boccino d'Oro.
Quando metti alcune carte, questi oggetti magici escono in gioco! Una coppia di carte Cacciatore ti consente di rubare il set di un altro giocatore, ma se hai guadagnato la Pluffa, sei al sicuro.
Gioca una coppia di carte Bolide, prendi un Bolide e lancialo contro un giocatore a tua scelta: se schiaffeggiano il Bolide in aria e colpisce un altro giocatore, quel giocatore deve scartare le carte nella sua mano. L'azione si muove più velocemente di un Nimbus 2000 mentre le carte cambiano di mano, i set arrivano sul tavolo e i Bolidi colpiscono nel segno.
Quando il Boccino d'Oro si lancia dal petto e in aria, prendilo: vale punti extra! Il gioco termina quando il Boccino d'Oro è in mano; vince il giocatore con più punti.
Per un'azione frenetica ed eccitazione, gioca a Catch the Golden Snitch con la tua famiglia magica e i tuoi amici.
MS Distribuzione
Ms Distribuzione (Magic Store srl) è un distributore italiano che vende giochi di carte collezionabili e fantasy (TCG) come Magic: The Gathering, Yu-Gi-Oh!, Pokemon o Cardfight!! . Offriamo anche accessori di noti produttori come Ultra Pro o Dragon Shield. I nostri clienti sono i rivenditori, che cercano un servizio eccellente, prezzi competitivi e uno standard di qualità elevato. Approfitta del nostro servizio di prima classe, dei nostri preventivi senza rivali e della consegna rapida e senza problemi. In questo sito vendiamo solo a rivenditori o altri distributori. Non siamo autorizzati a vendere direttamente ai clienti finali e siamo quindi strettamente Business to Business ("B2B"). Se sei un rivenditore che desidera espandere il tuo portafoglio prodotti, registrati e dopo aver confermato il tuo stato commerciale ti garantiremo l'accesso ai nostri prezzi e livelli di stock.