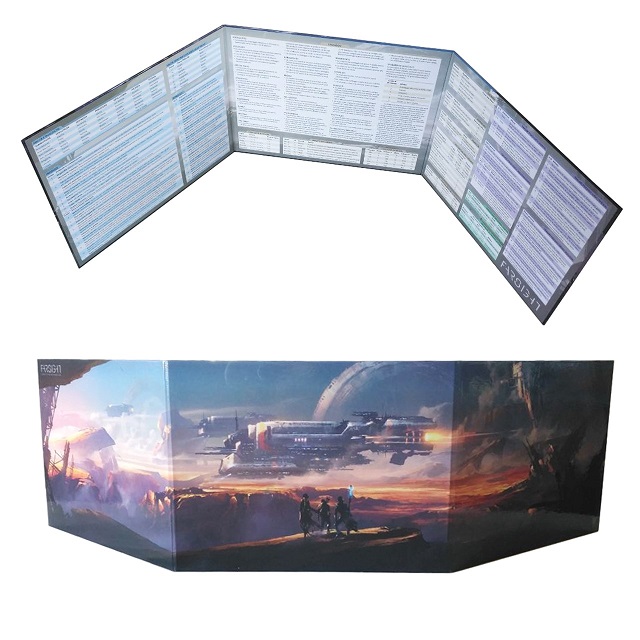 Tipologia

Lingua
I prezzi sono visibili solo agli utenti registrati e autorizzati
Supplemento per Farsight in italiano
Tieni a portata di mano tutte le regole essenziali per velocizzare il tuo gioco e nascondi le tue note di campagna e i tuoi tiri di dado agli occhi dei tuoi giocatori con lo Schermo del GM di FARSIGHT RPG!
Questo schermo a tre pannelli splendidamente illustrato in formato landscape, presenta uno stupendo ed evocativo artwork di Dmitriy Kuzin dal lato dei giocatori, mentre riporta informazioni chiave dal Manuale Base sul lato del GM.
Lo Schermo del GM di FARSIGHT RPG offre tutti gli strumenti necessari per mantenere il gioco veloce e divertente: abilità e qualifiche, valori tipici di CD ed Esiti, Prodezze e Imprevisti, condizioni, traumi, taglie, tabelle per impostare i danni di pericoli e trappole, distanza, copertura, visibilità, informazioni su ambiente e viaggio, e altro ancora!
MS Distribuzione
Ms Distribuzione (Magic Store srl) è un distributore italiano che vende giochi di carte collezionabili e fantasy (TCG) come Magic: The Gathering, Yu-Gi-Oh!, Pokemon o Cardfight!! . Offriamo anche accessori di noti produttori come Ultra Pro o Dragon Shield. I nostri clienti sono i rivenditori, che cercano un servizio eccellente, prezzi competitivi e uno standard di qualità elevato. Approfitta del nostro servizio di prima classe, dei nostri preventivi senza rivali e della consegna rapida e senza problemi. In questo sito vendiamo solo a rivenditori o altri distributori. Non siamo autorizzati a vendere direttamente ai clienti finali e siamo quindi strettamente Business to Business ("B2B"). Se sei un rivenditore che desidera espandere il tuo portafoglio prodotti, registrati e dopo aver confermato il tuo stato commerciale ti garantiremo l'accesso ai nostri prezzi e livelli di stock.