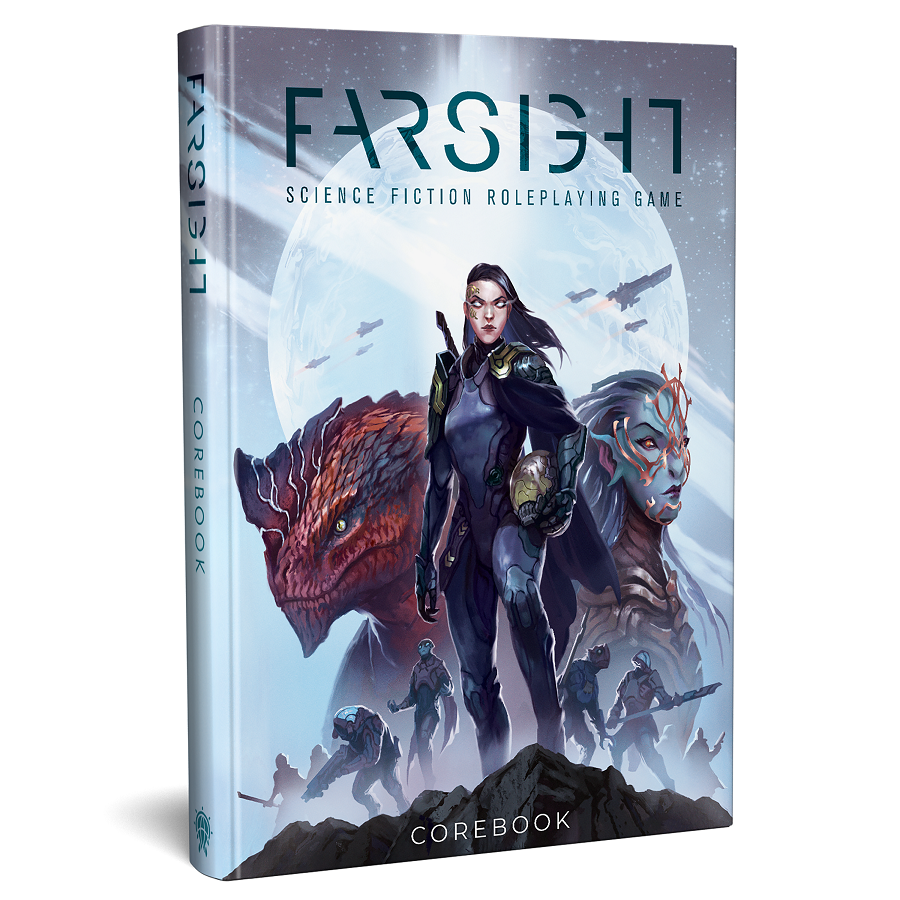 Tipologia

Lingua
I prezzi sono visibili solo agli utenti registrati e autorizzati
Gioco di ruolo in italiano - Supplemento per D&D 5a Edizione - Manuale Base
FARSIGHT RPG è un gioco di ruolo ideato per portare il futuro e la fantascienza al vostro tavolo, permettendovi di esplorare mondi incontaminati, vagare per il cosmo e confrontarvi con specie sconosciute, civiltà aliene e tecnologie prodigiose. Ovviamente a patto che riusciate a sopravvivere ai pericoli in agguato appena oltre i confini del conosciuto!
Il suo sistema di gioco, EVOLVED 5E, è un'evoluzione della 5a edizione del gioco di ruolo più popolare al mondo che, pur mantenendo lo stesso stile essenziale e accessibile, implementa nuove meccaniche e importanti modifiche progettate per restituire al meglio la profondità e i dettagli che la fantascienza richiede, arrivando persino ad abbandonare l'iconico d20 (COSA?! Beh, sì!). Grazie a un nuovo sistema di creazione e avanzamento dei personaggi, i gioc atori potranno forgiare gli eroi che hanno sempre desiderato, mentre i game master disporranno di tutto ciò di cui hanno bisogno per creare infiniti mondi per le loro avventure e campagne.
FARSIGHT RPG pone l'accento sul lontano futuro e sull'ultima frontiera della fantascienza rappresentata dall'esplorazione spaziale. Tuttavia il gioco è pensato per permettervi di modellare l'ambientazione in base al vostro stile e alle vostre preferenze: dalla più epica space opera al cyberpunk, dal techno-thriller post-moderno al post-apocalittico più oscuro! Se avete sempre desiderato esplorare il futuro in tutte le sue infinite possibilità, FARSIGHT RPG è il gioco che fa per voi!
ISBN Manuale Base ITA – 9788831382670
MS Distribuzione
Ms Distribuzione (Magic Store srl) è un distributore italiano che vende giochi di carte collezionabili e fantasy (TCG) come Magic: The Gathering, Yu-Gi-Oh!, Pokemon o Cardfight!! . Offriamo anche accessori di noti produttori come Ultra Pro o Dragon Shield. I nostri clienti sono i rivenditori, che cercano un servizio eccellente, prezzi competitivi e uno standard di qualità elevato. Approfitta del nostro servizio di prima classe, dei nostri preventivi senza rivali e della consegna rapida e senza problemi. In questo sito vendiamo solo a rivenditori o altri distributori. Non siamo autorizzati a vendere direttamente ai clienti finali e siamo quindi strettamente Business to Business ("B2B"). Se sei un rivenditore che desidera espandere il tuo portafoglio prodotti, registrati e dopo aver confermato il tuo stato commerciale ti garantiremo l'accesso ai nostri prezzi e livelli di stock.