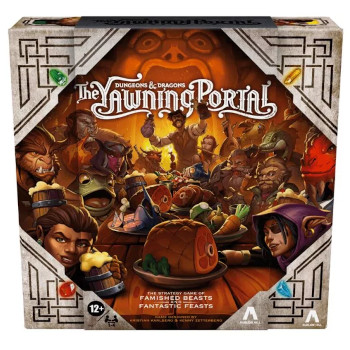 Codice

115581

Tipologia

Lingua
I prezzi sono visibili solo agli utenti registrati e autorizzati
Gioco da tavolo in italiano
Preparati a correre avanti e indietro nella taverna Portale sbadigliante con il gioco Dungeons & Dragons: The Yawning Portal, una variante innovativa dell'esperienza D&D per giocatori esperti e principianti! Questa iconica taverna attrae avventurieri affascinanti che hanno una cosa in comune: sono affamati e hanno gusti particolari in fatto di cibo. Gioca nei panni di un dipendente della taverna e servi i clienti abbinando le pedine Cibo con le ordinazioni raffigurate sulle rispettive carte Eroe. Ottieni gemme colorate (e punti) per ogni abbinamento o un bonus per aver completato un ordine. Accumuli più punti se sei il primo a raggiungere l'obiettivo indicato nella carte Obiettivo o se ottieni un Bonus finale. Vince il giocatore che ha totalizzato il punteggio più alto alla fine del gioco! Ma c'è un risvolto: le gemme colorate che appaiono più spesso sul tabellone ricevono il punteggio più alto. Usa quindi la strategia per ottenere più punti degli avversari. Questo gioco D&D è un regalo perfetto per gli appassionati e i nuovi giocatori di D&D ed è un gioco divertente per le serate di giochi in famiglia.
Contiene:
- tabellone (composto da 5 parti)
- 48 pedine Cibo
- 68 carte Eroe
- 9 carte Obiettivo
- 16 tessere Azione
- 9 pedine Pozione Incanta Cibo
- 30 pedine gemma zaffiro blu
- 30 pedine gemma smeraldo verde
- 30 pedine gemma rubino rosso
- 30 pedine gemma topazio giallo
- 20 pedine gemma diamante bianco
- 4 carte di riferimento per i giocatori e foglio di istruzioni.
MS Distribuzione
Ms Distribuzione (Magic Store srl) è un distributore italiano che vende giochi di carte collezionabili e fantasy (TCG) come Magic: The Gathering, Yu-Gi-Oh!, Pokemon o Cardfight!! . Offriamo anche accessori di noti produttori come Ultra Pro o Dragon Shield. I nostri clienti sono i rivenditori, che cercano un servizio eccellente, prezzi competitivi e uno standard di qualità elevato. Approfitta del nostro servizio di prima classe, dei nostri preventivi senza rivali e della consegna rapida e senza problemi. In questo sito vendiamo solo a rivenditori o altri distributori. Non siamo autorizzati a vendere direttamente ai clienti finali e siamo quindi strettamente Business to Business ("B2B"). Se sei un rivenditore che desidera espandere il tuo portafoglio prodotti, registrati e dopo aver confermato il tuo stato commerciale ti garantiremo l'accesso ai nostri prezzi e livelli di stock.