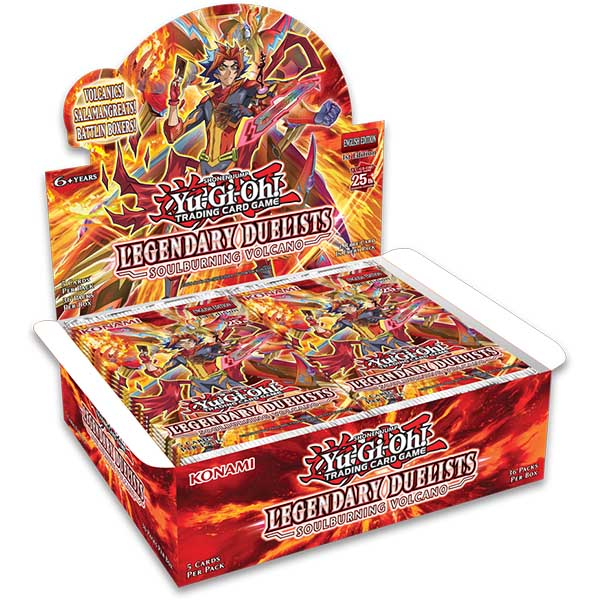 Codice

115900

Tipologia

Lingua

Scadenza preordine

31/05/2023

Se l'ordine viene effettuato dopo la scadenza indicata
non sarà garantita la consegna della quantità richiesta.
I prezzi sono visibili solo agli utenti registrati e autorizzati
Composizione:
Busta (5 carte)
Display (36 confezioni)
Cassa (12 display)
L'espansione Legendary Duelist Soulburning Volcano contiene 56 carte:
9 Carte Ultra Rare
8 Carte Super Rare
10 Carte Rare
29 Carte Comuni
Le fiamme della battaglia ardono in Legendary Duelists: Soulburning Volcano! Rivolgi la vampa di calore
contro il tuo avversario finché potrà resistere con tre strategie ispirate ai Duellanti più famosi della serie
animata di Yu-Gi-Oh!
I Salamagna sono tornati con nuove carte ispirate da Soulburner di Yu-Gi-Oh! VRAINS! Salamagna è una
delle strategie più popolari dell'ultimo decennio, in grado di scatenare anche 8000 danni in un lampo.
La sua tattica di «reincarnazione» è unica e fa guadagnare ai tuoi mostri un nuovo potere se li usi per
Evocare una seconda copia di loro stessi. Così potrai caricare il tuo Extra Deck di una copia extra dei tuoi
mostri preferiti «Salamagna»
Axel Brodie è un personaggio contenuto nel box Speed Duel GX: Accademia dei Duellanti e ora la sua
strategia vulcanica potrà avere un nuovo turno sotto ai riflettori. Ottieni nuove carte «Volcanic» che ti
aiuteranno a bruciare i LP dei tuoi avversari senza nemmeno dover combattere! Potrai usare la classica
Destino Fuoco Vulcanico, oppure potrai infliggere danni al tuo avversario ogni volta che Evocherà
Specialmente con il nuovo Imperatore di tutti i mostri «Volcanic».
La campana non ha ancora suonato, dunque sali sul ring con i nuovi «Battlin' Boxers». La strategia
dell'Imperatore Barian Alito di Yu-Gi-Oh! ZEXAL è focalizzata su resistere ai colpi mentre rispondi al tuo
avversario e queste nuove carte «Battlin' Boxers» riprendono da dove avevano lasciato. Potrai anche
aggiungere «Contro» Contro Trappole direttamente dal tuo Deck alla tua mano! Qualsiasi Deck che usa
Guerrieri FUOCO e può unire 2 Mostri di Livello 4, può scatenare un potentissimo nuovo Mostro Xyz
«Battlin' Boxer» che può aggiungere qualsiasi Guerriero FUOCO dal tuo Deck alla tua mano! Questo è
importante per tutti i fan di «Cavaliere Infernobile» di Duelist Nexus.
MS Distribuzione
Ms Distribuzione (Magic Store srl) è un distributore italiano che vende giochi di carte collezionabili e fantasy (TCG) come Magic: The Gathering, Yu-Gi-Oh!, Pokemon o Cardfight!! . Offriamo anche accessori di noti produttori come Ultra Pro o Dragon Shield. I nostri clienti sono i rivenditori, che cercano un servizio eccellente, prezzi competitivi e uno standard di qualità elevato. Approfitta del nostro servizio di prima classe, dei nostri preventivi senza rivali e della consegna rapida e senza problemi. In questo sito vendiamo solo a rivenditori o altri distributori. Non siamo autorizzati a vendere direttamente ai clienti finali e siamo quindi strettamente Business to Business ("B2B"). Se sei un rivenditore che desidera espandere il tuo portafoglio prodotti, registrati e dopo aver confermato il tuo stato commerciale ti garantiremo l'accesso ai nostri prezzi e livelli di stock.