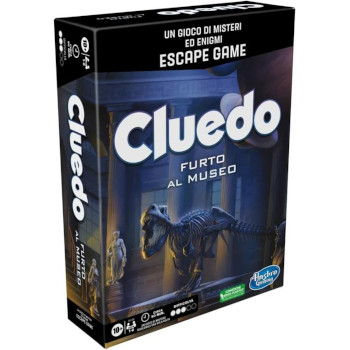 Codice

115770

Tipologia

Lingua
I prezzi sono visibili solo agli utenti registrati e autorizzati
Gioco da tavolo in italiano
Il Dottor Black ti ha ingaggiato per una rapina! La missione? Rubare 6 preziose opere d'arte dal museo per poi svignarsela e ricevere una ricompensa. Nella squadra però c'è un traditore! Tu e i tuoi compagni sarete messi alla prova: collaborare per fuggire dal museo prima dell'arrivo delle guardie e scoprire chi vi ha tradito, quale opera ha rubato e dove l'ha nascosta.
Il gioco da tavolo Cluedo Escape Furto al Museo, un gioco di misteri ed enigmi in versione Escape Game, propone i personaggi di Cluedo classico e un nuovo mistero da risolvere in un'appassionante esperienza Escape Room. I giocatori spostano le pedine sul tabellone che viene costruito stanza dopo stanza ed esplorano le opere d'arte del museo, pescano carte, risolvono puzzle, sbloccano nuove stanze del museo e scoprono indizi. Dopo essere fuggiti, i giocatori esaminano gli indizi per formulare l'accusa corretta e vincere la partita!
MS Distribuzione
Ms Distribuzione (Magic Store srl) è un distributore italiano che vende giochi di carte collezionabili e fantasy (TCG) come Magic: The Gathering, Yu-Gi-Oh!, Pokemon o Cardfight!! . Offriamo anche accessori di noti produttori come Ultra Pro o Dragon Shield. I nostri clienti sono i rivenditori, che cercano un servizio eccellente, prezzi competitivi e uno standard di qualità elevato. Approfitta del nostro servizio di prima classe, dei nostri preventivi senza rivali e della consegna rapida e senza problemi. In questo sito vendiamo solo a rivenditori o altri distributori. Non siamo autorizzati a vendere direttamente ai clienti finali e siamo quindi strettamente Business to Business ("B2B"). Se sei un rivenditore che desidera espandere il tuo portafoglio prodotti, registrati e dopo aver confermato il tuo stato commerciale ti garantiremo l'accesso ai nostri prezzi e livelli di stock.