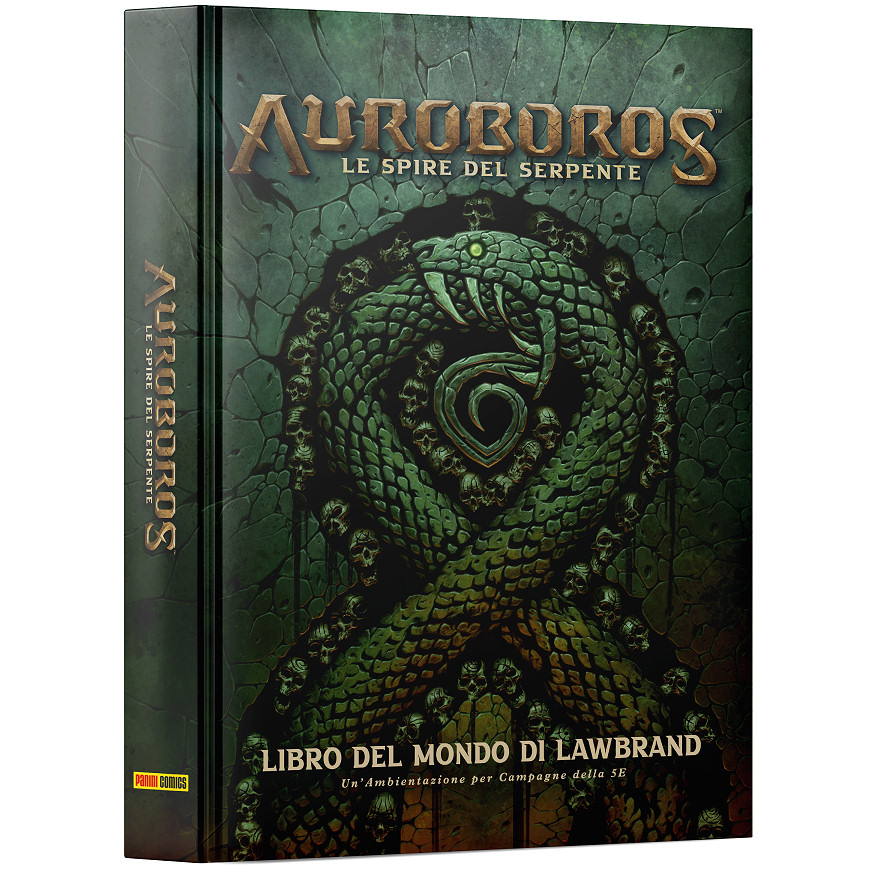 Codice

115813

Tipologia
I prezzi sono visibili solo agli utenti registrati e autorizzati
Gioco di Ruolo in italiano - Manuale Base
Un'antica magia scorre tra le strade fuligginose delle frenetiche città mercantili di Lawbrand. Le tensioni tra il governo della Chiesa Sulariana e una nuova generazione di avventurieri minaccia di scatenare un'infuocata tempesta di tumulti sociali. Nelle terre selvagge oltre i confini, razze dimenticate e culti maligni insorgono per conquistare nuovi territori e imporre la loro volontà sul mondo civilizzato. E nelle viscere della terra, l'Auroboros, il Serpente del Mondo, si risveglia per divorare tutto ciò che esiste… Riuscirai a padroneggiare il potere dell'Auroboros o ne sarai divorato completamente? Panini Comics esordisce nel mondo dei giochi di ruolo con un incredibile manuale ambientato in un epico mondo fantasy, basato sul sistema 5E e creato da Chris Metzen (Diablo, Warcraft), imperdibile per giocatori e game master.
Il Libro del Mondo di Lawbrand offre ai giocatori e ai GM tutti gli strumenti necessari per creare le loro personali avventure di 5E in questo epico mondo fantasy.
Il questo libro troverete:
•Il background e la storia di ogni Città mercantile e fazione, e le figure di spicco che ne detengono il controllo.
•Quattro sottoclassi inedite e cinque nuove razze concepite per questa ambientazione, nonché nuovi oggetti magici, incantesimi e tatuaggi magici, noti come simboli.
•Guide e consigli su come gestire le avventure a Lawbrand, creare storie appassionanti, usare il Marchio del serpente all'interno del gruppo e altro ancora.
Cartonato filo refe di grandi dimensioni: cm 22x 28,5 x 4, 392 pagine a colori.
Prezzo al pubblico € 50,00
ISBN: 9788828716129
MS Distribuzione
Ms Distribuzione (Magic Store srl) è un distributore italiano che vende giochi di carte collezionabili e fantasy (TCG) come Magic: The Gathering, Yu-Gi-Oh!, Pokemon o Cardfight!! . Offriamo anche accessori di noti produttori come Ultra Pro o Dragon Shield. I nostri clienti sono i rivenditori, che cercano un servizio eccellente, prezzi competitivi e uno standard di qualità elevato. Approfitta del nostro servizio di prima classe, dei nostri preventivi senza rivali e della consegna rapida e senza problemi. In questo sito vendiamo solo a rivenditori o altri distributori. Non siamo autorizzati a vendere direttamente ai clienti finali e siamo quindi strettamente Business to Business ("B2B"). Se sei un rivenditore che desidera espandere il tuo portafoglio prodotti, registrati e dopo aver confermato il tuo stato commerciale ti garantiremo l'accesso ai nostri prezzi e livelli di stock.