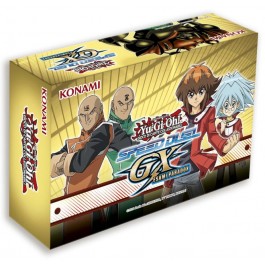 Tipologia

Lingua

Scadenza preordine

01/08/2022

Se l'ordine viene effettuato dopo la scadenza indicata
non sarà garantita la consegna della quantità richiesta.
I prezzi sono visibili solo agli utenti registrati e autorizzati
Nella serie animata Yu-Gi-Oh! GX il Dr. Crowler ha assunto i Paradox Brothers per dare una lezione a Jaden Yuki e Syrus Truesdale! Adesso puovestire i panni degli studenti Slifer Red - o dei loro avversari - con Speed ​​Duel GX: Midterm Paradox Mini Box!
Speed ​​Duel GX: Midterm Paradox Mini Box espande la Speed ​​Duel GX: Duel Academy Box introduce in Speed ​​Duel ancora più carte ispirate alla serie animata GX!
Speed ​​Duel GX: Midterm Paradox è un set statico da 100 carte che propone 4 mazzi Speed ​​Duel pronti per essere giocati!
Ecco alcune delle cose che ti aspettano::
Mazzi precostruiti per Jaden Yuki, Syrus Truesdale, Bastion Misawa e Paradox Brothers!
Carte abilità nuove di zecca per l'iconico Yu-Gi-Oh! Personaggi GX!
Nuove strategie con carte aggiuntive e potenziamenti per i mazzi Speed ​​Duel che già possiedi!
Le varianti Rare Segrete delle popolari carte dell'era GX!
Puù essere giocato da solo o come in aggiunta a Speed ​​Duel GX: Duel Academy Box
Ogni Mini Box Speed ​​Duel GX: Midterm Paradox contiene:
100 carte comuni
12 Carte Abilità
4 (di 12) Rare Segrete
2 tappetini da gioco Jaden Yuki e Syrus Truesdale Deluxe per due giocatori
MS Distribuzione
Ms Distribuzione (Magic Store srl) è un distributore italiano che vende giochi di carte collezionabili e fantasy (TCG) come Magic: The Gathering, Yu-Gi-Oh!, Pokemon o Cardfight!! . Offriamo anche accessori di noti produttori come Ultra Pro o Dragon Shield. I nostri clienti sono i rivenditori, che cercano un servizio eccellente, prezzi competitivi e uno standard di qualità elevato. Approfitta del nostro servizio di prima classe, dei nostri preventivi senza rivali e della consegna rapida e senza problemi. In questo sito vendiamo solo a rivenditori o altri distributori. Non siamo autorizzati a vendere direttamente ai clienti finali e siamo quindi strettamente Business to Business ("B2B"). Se sei un rivenditore che desidera espandere il tuo portafoglio prodotti, registrati e dopo aver confermato il tuo stato commerciale ti garantiremo l'accesso ai nostri prezzi e livelli di stock.