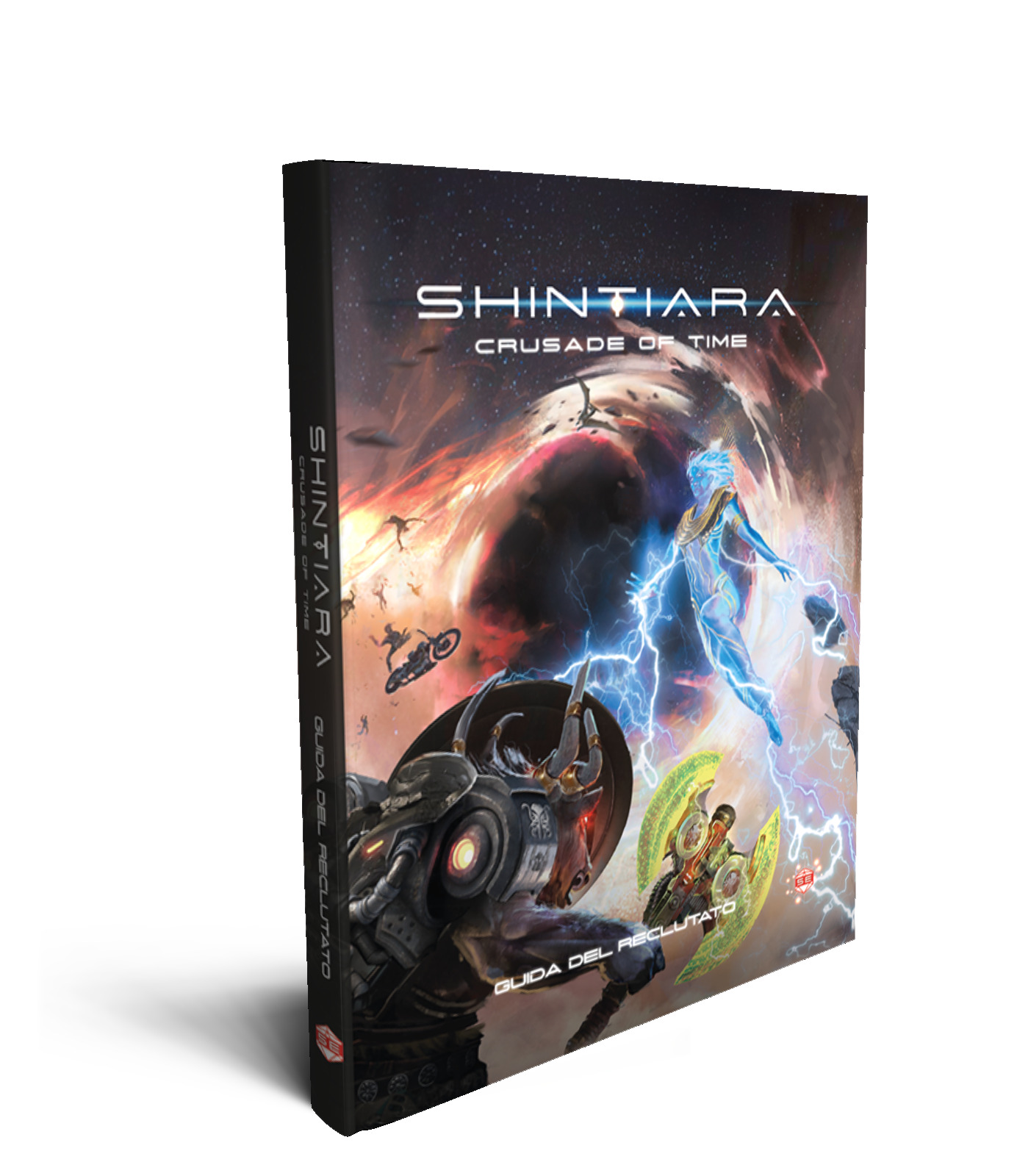 Tipologia

Lingua

Preordine

Disponibile da dicembre 2022
I prezzi sono visibili solo agli utenti registrati e autorizzati
Gioco di ruolo in italiano - Supplemento per D&D 5a Edizione - Manuale Base
Shintiara: Crusade of Time è un gioco di ruolo da tavolo tecno-fantasy. Un'ambientazione per la 5° edizione del gioco di ruolo più popolare al mondo incentrata sui viaggi nel tempo e i paradossi temporali.
La Guida del Reclutato contiene tutto l'essenziale per giocare nel mondo di Shintiara:
- Le regole per creare un Reclutato della Crociata del Tempo
- Sette nuove razze giocabili
- Tre nuove classi di personaggio temporali, con avanzamenti fino al 20° livello
- Quindici archetipi temporali per le classi base
- Background e talenti basati sul tempo
- Poteri temporali e tachionici
- Un nuovo sistema di gestione delle interazioni sociali basato sulle culture dei personaggi
- Nuovi incantesimi ed equipaggiamento tecnologico
- Regole per i viaggi nel tempo, l'esplorazione e il combattimento in Epoche diverse di Shintiara
- Regole per gestire le alterazioni, i pericoli e i paradossi temporali… e per l'arrivo dell'Apocalisse!oderno al post-apocalittico più oscuro! Se avete sempre desiderato esplorare il futuro in tutte le sue infinite possibilità, FARSIGHT RPG è il gioco che fa per voi!
MS Distribuzione
Ms Distribuzione (Magic Store srl) è un distributore italiano che vende giochi di carte collezionabili e fantasy (TCG) come Magic: The Gathering, Yu-Gi-Oh!, Pokemon o Cardfight!! . Offriamo anche accessori di noti produttori come Ultra Pro o Dragon Shield. I nostri clienti sono i rivenditori, che cercano un servizio eccellente, prezzi competitivi e uno standard di qualità elevato. Approfitta del nostro servizio di prima classe, dei nostri preventivi senza rivali e della consegna rapida e senza problemi. In questo sito vendiamo solo a rivenditori o altri distributori. Non siamo autorizzati a vendere direttamente ai clienti finali e siamo quindi strettamente Business to Business ("B2B"). Se sei un rivenditore che desidera espandere il tuo portafoglio prodotti, registrati e dopo aver confermato il tuo stato commerciale ti garantiremo l'accesso ai nostri prezzi e livelli di stock.