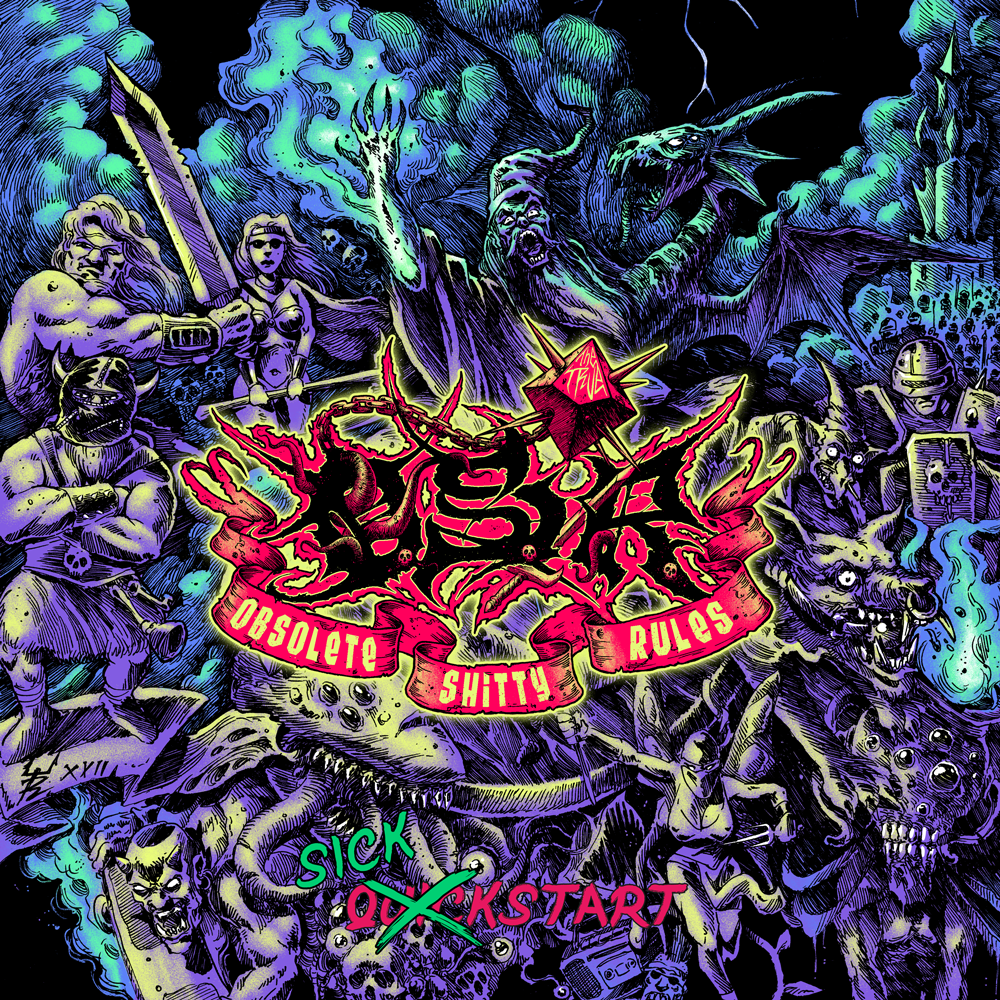 Tipologia

Lingua
I prezzi sono visibili solo agli utenti registrati e autorizzati
Gioco di ruolo in italiano - Quickstart in italiano
Ehi tu, nerd!
La notte ti svegli in un bagno di sudore ripensando alla tragica e ingiusta morte del tuo ultimo PG per mano di un sadico Master egomaniaco?
O forse non ti sei più ripreso da quando i tuoi giocatori hanno approfittato delle regole per farsi beffe dei tuoi bellissimi BBEG?
The True OSR Obsolete Shitty Rules
È qui per porre fine a questi disturbi tipici di noi giocatori di ruolo!
In questa SICKSTART troverai le regole base per approcciare in modo parodico lo stile di gioco "old school", regole che potrai apprezzare nella loro interezza nel gioco completo.
Nel dettaglio, ti offriamo:
•Un sistema di gioco classico con un twist innovativo: il gioco termina con uno scontro senza esclusione di colpi tra il gruppo dei PG e il DM
•DUNGEON AXE, un'avventura originale dal sapore heavy metal con un dungeon randomizzabile all'infinito!
•10 personaggi pregenerati parodia dei più comuni stereotipi delle diverse ambientazioni che tutti amiamo!
•TABELLE DI OGNI TIPO, fra cui quella per determinare ciò che accade alla Morte di un personaggio e quella per sferrare temerari Attacchi Eroici!
•Un'ironia tagliente che vi farà cadere dalla sedia e ripensare a tutte le peggiori situazioni che avete vissuto ad un tavolo da gioco!
Non ti basta? Fattelo bastare! (Hai sbloccato una nuova quest: se vuoi di più dovrai recuperare il gioco completo!)
COME FUNZIONA
The true O.S.R. ha un sistema adatto specialmente alle giocate one-shot, facile da imparare e applicare. E non vi abbiamo ancora detto il meglio: in questo GDR si può vincere! I PG dovranno sfidare e sconfiggere il perfido DM in una tenzone epica senza esclusione di colpi!
TEMATICA
The True O.S.R è un GDR parodico che abbraccia tutte le tematiche tipiche dei GDR classici (horror, cyberpunk, fantasy, ecc) e le miscela fra loro in una narrazione bizzarra e divertente. Lungo il vostro cammino troverete tutti i cliché dei giochi di ruolo tradizionali con un twist esplicito, crudo e diretto!
SISTEMA
In The True O.S.R. troverete molte ???????????????????????????? ℭ???????????????????????? con migliaia di elementi che si possono combinare generando combinazioni nuove, inaspettate e divertenti condite da regole semplici ma in grado di trascendere il piano narrativo!
PUNTI DI FORZA
1.Gioco semplice e immediato: si gioca subito ed è perfetto per una one-shot
2.Adatto a tutti dai noob agli esponenti della vecchia guardia
3.È un gioco innovativo: OSR ma con esiti metanarrativi diversi dal solito come ad esempio lo scontro finale Master VS Giocatori
4.È ironico: prendiamo il GDR per quello che è: un gioco da fare con gli amici per passare una serata divertente Longevo: puoi giocarci mille volte con mille esiti diversi!
5.Compatibile: ???????????? ???????????????? ????.????.????. è compatibile con i sistemi OSR classici che possono essere facilmente sostituiti alla struttura di base
KICKSTARTER
The True OSR verrà lanciato su Kickstarter nella prima parte del 2023
MS Distribuzione
Ms Distribuzione (Magic Store srl) è un distributore italiano che vende giochi di carte collezionabili e fantasy (TCG) come Magic: The Gathering, Yu-Gi-Oh!, Pokemon o Cardfight!! . Offriamo anche accessori di noti produttori come Ultra Pro o Dragon Shield. I nostri clienti sono i rivenditori, che cercano un servizio eccellente, prezzi competitivi e uno standard di qualità elevato. Approfitta del nostro servizio di prima classe, dei nostri preventivi senza rivali e della consegna rapida e senza problemi. In questo sito vendiamo solo a rivenditori o altri distributori. Non siamo autorizzati a vendere direttamente ai clienti finali e siamo quindi strettamente Business to Business ("B2B"). Se sei un rivenditore che desidera espandere il tuo portafoglio prodotti, registrati e dopo aver confermato il tuo stato commerciale ti garantiremo l'accesso ai nostri prezzi e livelli di stock.