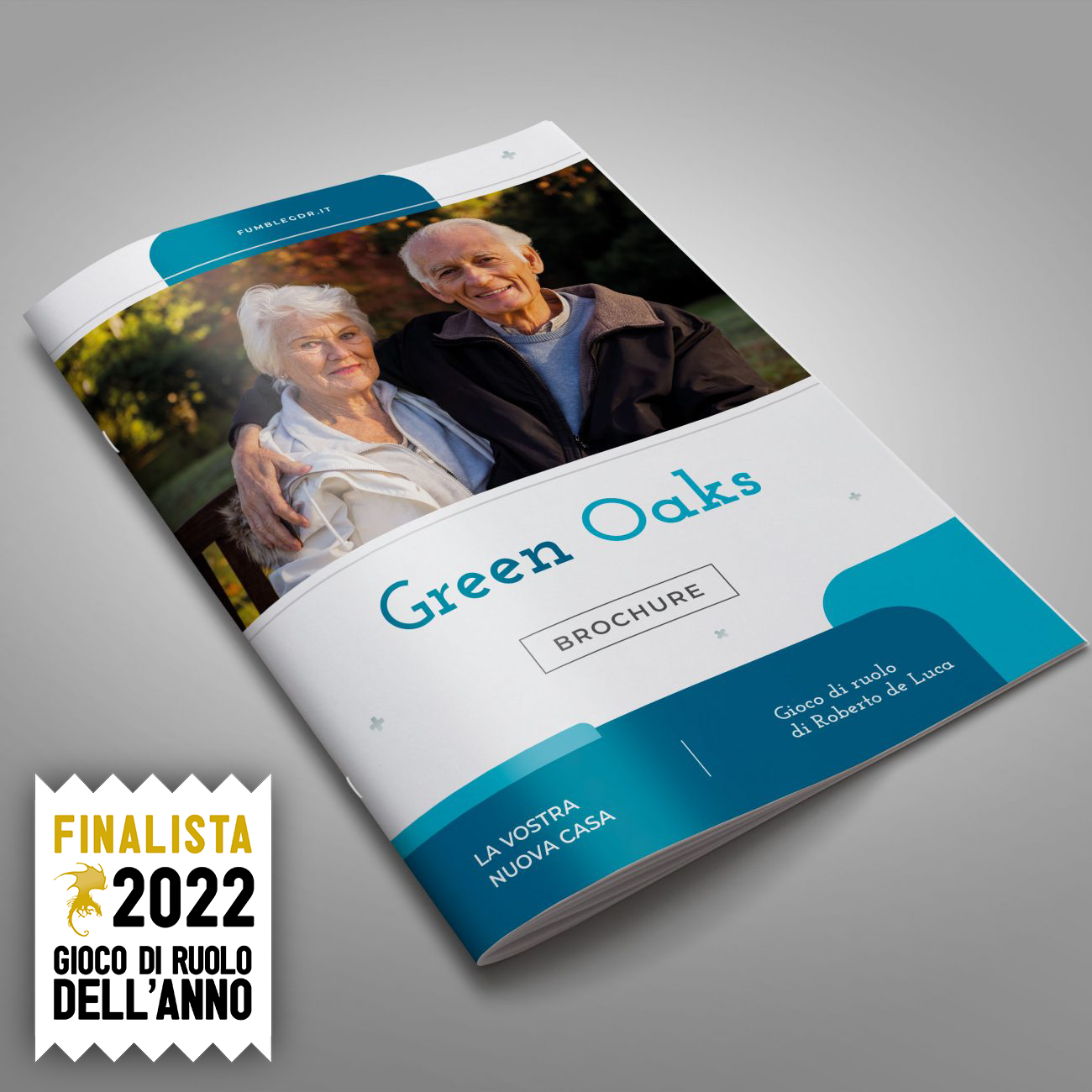 Codice

109499

Tipologia

Lingua
I prezzi sono visibili solo agli utenti registrati e autorizzati
Gioco di ruolo in italiano - Manuale base
Un gioco di ruolo per 2-6 giocatori, ideale per One-shot. Per giocare è necessario un mazzo di carte da Briscola (o da Poker), non incluso.
Benvenuti a Green Oaks!
Tra attività ricreative, nuove amicizie e personale superqualificato.
Green Oaks è una stupenda struttura immersa nel verde dove coloro che sono giunti all'inverno della loro vita possono trovare diverse attività ricreative, nuove amicizie e tutta la professionalità di personale infermieristico di altissimo livello.
Corre voce che nei sotterranei di Green Oaks si nascondano grandi tesori, ma c'è anche chi pensa che in realtà l'intera struttura sia una base aliena dove vengono fatti esperimenti sugli Anziani.
I giovani della zona dicono che la struttura sia stata costruita sopra un cimitero indiano, mentre altri che sia la bocca dell'Inferno.
Vedere i nostri ospiti dilettarsi in giardinaggio o in corsi di liscio potrebbe far credere che la loro vita sia sempre stata così tranquilla. In realtà, come molti anziani, basterà farci due chiacchiere per scoprire che loro gioventù è stata costellata di esperienze aldilà di ogni immaginazione. Un passato che potrebbe aiutarli a sopravvivere a quello che accade a Green Oaks.
In questo gioco di ruolo ognuno interpreta un Anziano, definito da tre semplici Descrittori: Ex ______, ______ in pensione con l'hobby del ______.
Un «Ex marine, prete in pensione con l'hobby delle bocce olimpioniche» oppure una «Ex serial killer, spia in pensione con l'hobby della sartoria» sono esempi di Anziani perfetti per questo gioco.
Uno di voi dovrà fare fare da Narratore, raccontando cosa accade a Green Oaks e facilitando il gioco per tutti. È quello che viene chiamato «Master» in altri giochi.
Interpretare il tuo Anziano sarà semplicissimo grazie ad un innovativo sistema chiamato ArterioscleroSys.
Per giocare è necessario un mazzo di carte da Briscola, non incluso.
Green Oaks è un gioco veloce, fatto per riempire anche all'ultimo serate di gioco caciarone e divertenti, anche grazie al C.A.N.T.I.E.R.E., che vi permetterà di improvvisare tutto quanto, dalla trama ai personaggi, anche se è la prima volta che improvvisate una sessione!
Se vi piacciono Bubba ho-tep, Buffy the Vampire Slayer o Red, Green Oaks è il gioco che fa per voi.
Cod. ISBN: 9791255770008
MS Distribuzione
Ms Distribuzione (Magic Store srl) è un distributore italiano che vende giochi di carte collezionabili e fantasy (TCG) come Magic: The Gathering, Yu-Gi-Oh!, Pokemon o Cardfight!! . Offriamo anche accessori di noti produttori come Ultra Pro o Dragon Shield. I nostri clienti sono i rivenditori, che cercano un servizio eccellente, prezzi competitivi e uno standard di qualità elevato. Approfitta del nostro servizio di prima classe, dei nostri preventivi senza rivali e della consegna rapida e senza problemi. In questo sito vendiamo solo a rivenditori o altri distributori. Non siamo autorizzati a vendere direttamente ai clienti finali e siamo quindi strettamente Business to Business ("B2B"). Se sei un rivenditore che desidera espandere il tuo portafoglio prodotti, registrati e dopo aver confermato il tuo stato commerciale ti garantiremo l'accesso ai nostri prezzi e livelli di stock.