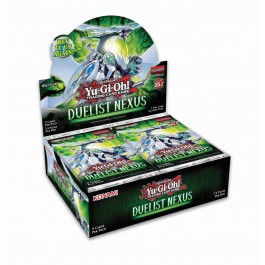 Codice

115862

Tipologia

Lingua

Scadenza preordine

07/05/2023

Se l'ordine viene effettuato dopo la scadenza indicata
non sarà garantita la consegna della quantità richiesta.
I prezzi sono visibili solo agli utenti registrati e autorizzati
NOVITA' IN DUELIST NEXUS:
Accelera ed entra in Duelist Nexus il nuovo core booster set della prossima estate!
Porta le tue strategie Evocazione Synchro a un nuovo universo di velocità con nuove carte ispirate a Yu-Gi-Oh! 5D's,
tra le quali il mitico Crimson Dragon tratto dalla serie animata e ora portato in vita come un Mostro Synchro!
Assicurati di avere Assault Synchron da Battaglie della Leggenda: Monstrous Revenge così che tu possa fare una
partenza ruggente con questa strategia ultra veloce!
Tornano i cavalieri dell'estate bollente! Tre anni dopo che hanno fatto la loro comparsa in Ascesa del Duellante,
questa saga epica gli Infernobili Cavalieri continuano in Duelist Nexus! Spolvera il tuo Infernobile Cavaliere
Imperatore Charles e le tue magie equipaggiate dato che ne avrai bisogno per Evocare un nuovissimo Mostro Link -1
da 3000ATK che può ridurre le magie e trappole del tuo avversario in cenere!
Non è solo storia medievale quella che rivivrà in Duelist Nexus! Anche storia naturale tornerà con carte Dinosauro
incluso un nuovo tipo di Grenosaurus, più altri Evolsaurs che possono evolversi in un mitico Evolzar di Livello 6!
Troverai anche nuove carte per Deck introdotti in Accesso Cybertempesta come «Nemleria» così come alcune
incredibili sorprese che non vedrai l'ora di scoprire.
Duelist Nexus introduce anche nuovi temi World Premiere e introduce le carte Quarter Century Secret Rare a un
core booster per la prima volta! 25 carte saranno disponibili anche come Quarter Century Secret Rare per
rappresentare i 25 anni del Gioco di Carte Collezionabili di Yu-Gi-Oh!
MS Distribuzione
Ms Distribuzione (Magic Store srl) è un distributore italiano che vende giochi di carte collezionabili e fantasy (TCG) come Magic: The Gathering, Yu-Gi-Oh!, Pokemon o Cardfight!! . Offriamo anche accessori di noti produttori come Ultra Pro o Dragon Shield. I nostri clienti sono i rivenditori, che cercano un servizio eccellente, prezzi competitivi e uno standard di qualità elevato. Approfitta del nostro servizio di prima classe, dei nostri preventivi senza rivali e della consegna rapida e senza problemi. In questo sito vendiamo solo a rivenditori o altri distributori. Non siamo autorizzati a vendere direttamente ai clienti finali e siamo quindi strettamente Business to Business ("B2B"). Se sei un rivenditore che desidera espandere il tuo portafoglio prodotti, registrati e dopo aver confermato il tuo stato commerciale ti garantiremo l'accesso ai nostri prezzi e livelli di stock.