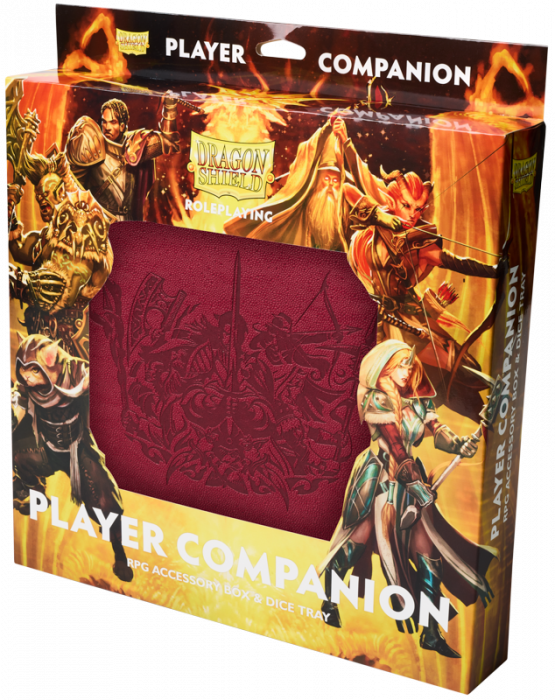 Tipologia
I prezzi sono visibili solo agli utenti registrati e autorizzati
GUARDA IL VIDEO DELLA PRESENTAZIONE DEL PRODOTTO: https://youtu.be/w38eB4ebMC0
The Dragon Shield Player Companion is a two-in-one storage box and gameplay area for players of tabletop RPGs. Use the Player Companion to pack dice, miniatures, pens/pencils, character sheets and an RPG book or two! Take everything you need to go dungeon delving in one handy companion.
The Player Companion doubles as your play area, fold it out and roll dice in the dice tray for a satisfying sounding roll.
Place your character sheet under the overlay and use the included dry erase marker to track HP, inspiration or death saves without marking your character sheet directly. You can easily wipe clean and re-write on the overlay.
Do you use digital character sheets on a mobile phone or tablet? Use the included foam blocks and place it in the miniature compartment to rest at the perfect viewing angle while playing. The Companion can be folded if table space is tight.
The Player Companion features a tough Dragon Skin™ exterior, making the companion a durable piece of adventuring gear. Dragon Shield Roleplaying accessories are designed to enhance gameplay and immersion for Game Masters and Players of tabletop RPGs!
Included in the box:
Dry erase marker
Dragon Shield mini-adventure
Features:
Room for miniatures, pens and dice
Doubles as a dice tray
Tough Dragon Skin™ exterior
Clear overlay and included dry erase marker makes tracking hit points easy
Strong, magnetic lock ensures safe transport and storage of contents
Deluxe duchess satin lining
Holds a smart phone or iPad
Space for RPG books
MS Distribuzione
Ms Distribuzione (Magic Store srl) è un distributore italiano che vende giochi di carte collezionabili e fantasy (TCG) come Magic: The Gathering, Yu-Gi-Oh!, Pokemon o Cardfight!! . Offriamo anche accessori di noti produttori come Ultra Pro o Dragon Shield. I nostri clienti sono i rivenditori, che cercano un servizio eccellente, prezzi competitivi e uno standard di qualità elevato. Approfitta del nostro servizio di prima classe, dei nostri preventivi senza rivali e della consegna rapida e senza problemi. In questo sito vendiamo solo a rivenditori o altri distributori. Non siamo autorizzati a vendere direttamente ai clienti finali e siamo quindi strettamente Business to Business ("B2B"). Se sei un rivenditore che desidera espandere il tuo portafoglio prodotti, registrati e dopo aver confermato il tuo stato commerciale ti garantiremo l'accesso ai nostri prezzi e livelli di stock.