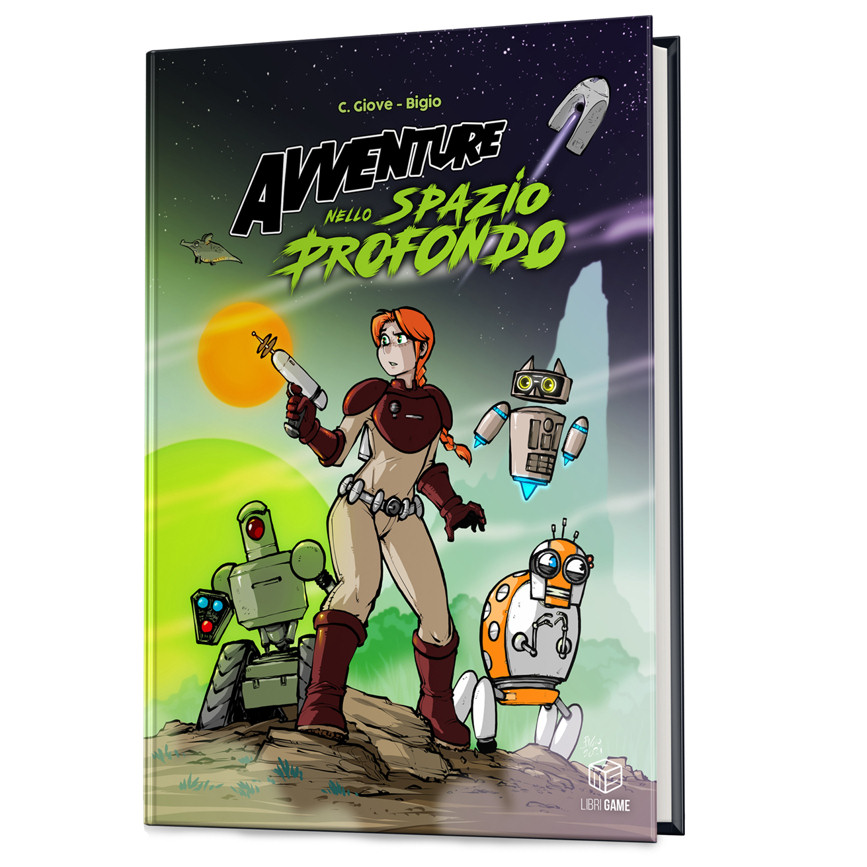 Tipologia

Lingua
I prezzi sono visibili solo agli utenti registrati e autorizzati
Fumetto-Gioco in Italiano
Avventure nello Spazio Profondo è un incredibile fumetto-gioco dove sarai Sam Curtois, giovane cadetta di un'astronave e unica membra ancora cosciente dell'equipaggio, dopo un atterraggio di fortuna su una luna aliena. Dovrai trovare un modo per salvare tutti e potrai contare sull'aiuto di Kravitz ,Bubo e Poldo, tre robot di supporto, ciascuno con una propria specialità e personalità, che faranno di tutto per assisterti ed esplorare una luna ricca di strane creature, antiche rovine, pericoli... e un mistero da svelare.
Giocare è semplicissimo! Inizia questo fumetto come faresti di solito, ma leggilo seguendo i numeri che troverai nascosti nelle vignette o indicati nel testo. In questo modo farai delle scelte che modificheranno il corso della storia creando sempre una nuova esperienza di gioco.
Kravitz, Bubo e Poldo sono i tre robot che aiuteranno Sam, mentre la cadetta cercherà di salvare l'equipaggio, recuperando minerali ed energia per far ripartire l'astronave. Saranno i protagonisti di tante storie secondarie e incredibili incontri, e ognuno affronterà le proprie avventure sfruttando le caratteristiche e abilità per cui è stato costruito. Ogni rilettura di questo fumetto-gioco sarà sempre diversa e passerai ore a scoprire i segreti e sotto trame nascoste, fino a ottenere un'inedita sorpresa.

Punti di Forza:
Tante piccole avventure in un unico prodotto
Mini giochi e segreti da scoprire
Alta qualità dei materiali
Il Libro:
156 pagine a colori
Formato 16x24 cm
Cartonato filo refe
Cod ISBN: 9788831382649
MS Distribuzione
Ms Distribuzione (Magic Store srl) è un distributore italiano che vende giochi di carte collezionabili e fantasy (TCG) come Magic: The Gathering, Yu-Gi-Oh!, Pokemon o Cardfight!! . Offriamo anche accessori di noti produttori come Ultra Pro o Dragon Shield. I nostri clienti sono i rivenditori, che cercano un servizio eccellente, prezzi competitivi e uno standard di qualità elevato. Approfitta del nostro servizio di prima classe, dei nostri preventivi senza rivali e della consegna rapida e senza problemi. In questo sito vendiamo solo a rivenditori o altri distributori. Non siamo autorizzati a vendere direttamente ai clienti finali e siamo quindi strettamente Business to Business ("B2B"). Se sei un rivenditore che desidera espandere il tuo portafoglio prodotti, registrati e dopo aver confermato il tuo stato commerciale ti garantiremo l'accesso ai nostri prezzi e livelli di stock.