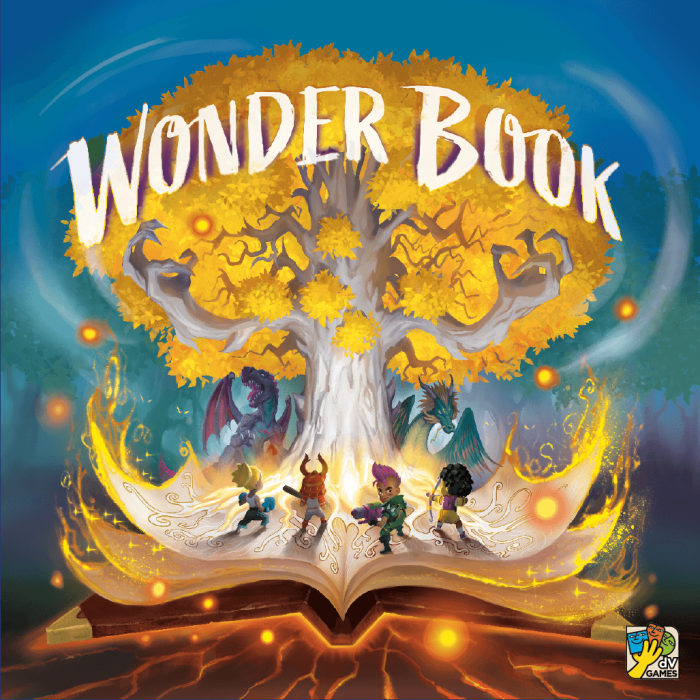 Tipologia

Lingua
Wonder Book è un gioco cooperativo basato sulla narrazione, in cui il tabellone da gioco è un libro pop-up tridimensionale. Un capitolo dopo l'altro, i giocatori scopriranno i risvolti dell'avventura ambientata nel fantastico mondo di Oniria, e sveleranno le spettacolari componenti interattive del piano di gioco.
Il regno, un luogo idilliaco e popolato da un'antica civiltà di draghi, è ora scosso da tumultuosi conflitti. Un gruppo di avventurosi ragazzini ha scovato un antico tomo sepolto sotto alla polvere in una torre abbandonata. Il destino di Oniria adesso è nelle loro mani!
Il gioco è basato su un set di meccaniche di facile apprendimento e ogni scenario offre un'esperienza sempre varia e sorprendente. I giocatori si ritroveranno a esplorare, combattere, risolvere enigmi, cercare indizi e tanto altro ancora.
Grazie ai congegni pop-up nascosti del libro e grazie alla trama ramificata, Wonder Book offre un'esperienza di gioco originale, coinvolgente e in continua evoluzione.
Ogni scenario è un'avventura disseminata di bivi narrativi e di temibili nemici; nel corso della partita ogni eroe potrà acquisire nuove abilità e potenziare i propri talenti.
N. giocatori: 1-4
Età: 10-99
Durata: 60'
MS Distribuzione
Ms Distribuzione (Magic Store srl) è un distributore italiano che vende giochi di carte collezionabili e fantasy (TCG) come Magic: The Gathering, Yu-Gi-Oh!, Pokemon o Cardfight!! . Offriamo anche accessori di noti produttori come Ultra Pro o Dragon Shield. I nostri clienti sono i rivenditori, che cercano un servizio eccellente, prezzi competitivi e uno standard di qualità elevato. Approfitta del nostro servizio di prima classe, dei nostri preventivi senza rivali e della consegna rapida e senza problemi. In questo sito vendiamo solo a rivenditori o altri distributori. Non siamo autorizzati a vendere direttamente ai clienti finali e siamo quindi strettamente Business to Business ("B2B"). Se sei un rivenditore che desidera espandere il tuo portafoglio prodotti, registrati e dopo aver confermato il tuo stato commerciale ti garantiremo l'accesso ai nostri prezzi e livelli di stock.