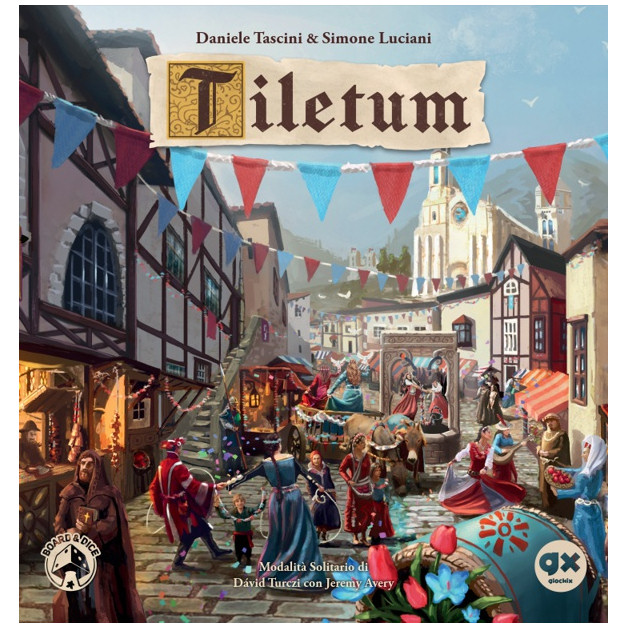 Tipologia

Lingua
I prezzi sono visibili solo agli utenti registrati e autorizzati
Gioco da tavolo in italiano
Tiletum è il nuovo gioco della coppia Daniele Tascini e Simone Luciani, autori di tantissimi grandi successi tra cui Tzolk'in, Barrage, Grand Austria Hotel, Teotihuacan, I Viaggi di Marco Polo, Tekhenu, Lorenzo il Magnifico e molti altri ancora. Si tratta di un gioco per 1-4 giocatori che dura circa 90 minuti in edizione italiana.
In Tiletum, vestirai i panni di un ricco mercante che viaggia attraverso l'Europa. Visiterai numerose città per stipulare contratti commerciali per lana e ferro e per stabilire postazioni commerciali. Dovrai accumulare le risorse richieste, investire nella costruzione di cattedrali monumentali, ottenere il favore delle famiglie nobili e partecipare alle fiere più importanti, in cui potrai concludere i tuoi affari migliori. Sarai inoltre aiutato da illustri personaggi che verranno accolti nelle case di tua proprietà.
MS Distribuzione
Ms Distribuzione (Magic Store srl) è un distributore italiano che vende giochi di carte collezionabili e fantasy (TCG) come Magic: The Gathering, Yu-Gi-Oh!, Pokemon o Cardfight!! . Offriamo anche accessori di noti produttori come Ultra Pro o Dragon Shield. I nostri clienti sono i rivenditori, che cercano un servizio eccellente, prezzi competitivi e uno standard di qualità elevato. Approfitta del nostro servizio di prima classe, dei nostri preventivi senza rivali e della consegna rapida e senza problemi. In questo sito vendiamo solo a rivenditori o altri distributori. Non siamo autorizzati a vendere direttamente ai clienti finali e siamo quindi strettamente Business to Business ("B2B"). Se sei un rivenditore che desidera espandere il tuo portafoglio prodotti, registrati e dopo aver confermato il tuo stato commerciale ti garantiremo l'accesso ai nostri prezzi e livelli di stock.