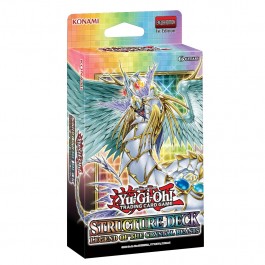 Codice

115191

Tipologia

Lingua

Scadenza preordine

01/07/2022

Se l'ordine viene effettuato dopo la scadenza indicata
non sarà garantita la consegna della quantità richiesta.
I prezzi sono visibili solo agli utenti registrati e autorizzati
Riscopri il potere dei legami familiari con lo Structure Deck: Leggenda delle Bestie Cristallo!
Questo Structure Deck dà nuova vita a un tema favorito dai fan della serie animata Yu-Gi-Oh! GX! Dopo aver fatto il loro debutto in Forza del Distruttore, le Bestie Cristallo di Jesse Anderson sono tornate alla grande con tante nuove carte, inclusa una nuova forma del Drago Arcobaleno come Mostro Fusione che può raggiungere 11000 ATK, liberare il terreno e scatenare i tuoi mostri "Bestia Cristallo" banditi per un devastante colpo finale!
I fan che non hanno familiarità con le Bestie Cristallo e il Drago Arcobaleno possono imparare le basi con il Speed Duel GX: Cofanetto Accademia del Duellante in preparazione all'uscita di questo nuovo Structure Deck!
Structure Deck: Leggenda delle Bestie Cristallo conterrà 46 carte e 3 Carte Token.
• 5 Carte Rara Ultra, 1 Carta Rara Super, 40 Carte Comuni, 3 Carte Segnalino di varie rarità • 1 Tappetino da Gioco Deluxe Fronte-retro/Guida ai Duelli
MS Distribuzione
Ms Distribuzione (Magic Store srl) è un distributore italiano che vende giochi di carte collezionabili e fantasy (TCG) come Magic: The Gathering, Yu-Gi-Oh!, Pokemon o Cardfight!! . Offriamo anche accessori di noti produttori come Ultra Pro o Dragon Shield. I nostri clienti sono i rivenditori, che cercano un servizio eccellente, prezzi competitivi e uno standard di qualità elevato. Approfitta del nostro servizio di prima classe, dei nostri preventivi senza rivali e della consegna rapida e senza problemi. In questo sito vendiamo solo a rivenditori o altri distributori. Non siamo autorizzati a vendere direttamente ai clienti finali e siamo quindi strettamente Business to Business ("B2B"). Se sei un rivenditore che desidera espandere il tuo portafoglio prodotti, registrati e dopo aver confermato il tuo stato commerciale ti garantiremo l'accesso ai nostri prezzi e livelli di stock.