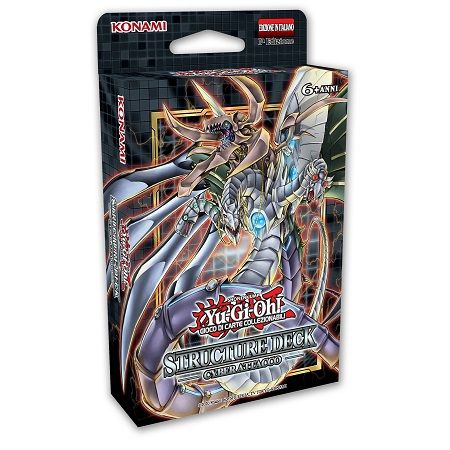 Tipologia

Lingua
I prezzi sono visibili solo agli utenti registrati e autorizzati
Torna il secondo Structure Deck del 2021, il cui tema è stato scelto dai fan.
Questo Structure Deck si basa sulle strategie usate da Zane Truesdale nell'anime Yu-Gi-Oh! GX.
Zane inizia la serie con una mazzo Cyber Drago, che successivamente fonde con Cyberoscur.
Sei sempre stato abituato a giocare le strategie in modo separato, non è mai stato possibile fonderle come avveniva nella serie animata.. fino ad oggi!
Molti duelli di Zane erano basati sulla carta magia: Vincolo di Potere capace di duplicare gli ATK del mostro evocato. I fan hanno chiesto a lungo di poter avere una carta simile nel loro mazzo.. e con Cyber Strike avranno questa possibilità.
I giocatori che parteciperanno ai tornei di Remote Duels potranno ricevere le carte OTS 16, che conterranno un'unica versione Ultimate Rare della variante 'dark' di Cyber Drago.
MS Distribuzione
Ms Distribuzione (Magic Store srl) è un distributore italiano che vende giochi di carte collezionabili e fantasy (TCG) come Magic: The Gathering, Yu-Gi-Oh!, Pokemon o Cardfight!! . Offriamo anche accessori di noti produttori come Ultra Pro o Dragon Shield. I nostri clienti sono i rivenditori, che cercano un servizio eccellente, prezzi competitivi e uno standard di qualità elevato. Approfitta del nostro servizio di prima classe, dei nostri preventivi senza rivali e della consegna rapida e senza problemi. In questo sito vendiamo solo a rivenditori o altri distributori. Non siamo autorizzati a vendere direttamente ai clienti finali e siamo quindi strettamente Business to Business ("B2B"). Se sei un rivenditore che desidera espandere il tuo portafoglio prodotti, registrati e dopo aver confermato il tuo stato commerciale ti garantiremo l'accesso ai nostri prezzi e livelli di stock.