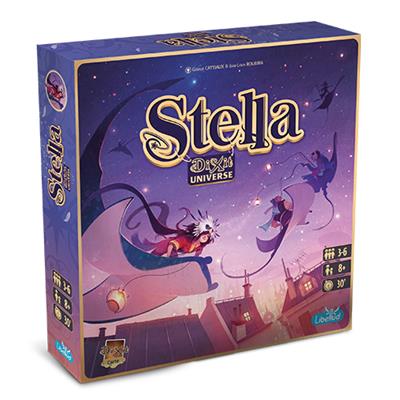 Tipologia

Lingua
I prezzi sono visibili solo agli utenti registrati e autorizzati
Oserete inseguire le stelle?
Dallo studio creatore di Dixit, Libellud, e tratto dallo stesso universo.
Un gioco "push your luck" di associazione di idee e di interpretazione di immagini nell'universo Dixit.
In una griglia 5x3 vengono rivelate 15 carte Dixit. Si gira poi una carta che indica la parola di riferimento per quel round.
I giocatori quindi segnano segretamente, sulla loro lavagna cancellabile, quali carte Dixit associano a quella parola.
Il giocatore che ha associato più carte potrebbe avere un malus in fase di calcolo del punteggio. Quindi non sempre associare tante carte si rivela una buona cosa.
Ogni giocatore rivelerà ora progressivamente le Carte Dixit che ha scelto selezionando di volta in volta la carta che crede essere più conveniente (ovvero quella che immagina sia stata votata anche da altri). In senso orario i giocatori continuano a rivelare associazioni fino al termine del round.
Se più giocatori hanno segnato la stessa carta, tutti i giocatori coinvolti ottengono una scintilla (1 punto).
Se solo 2 giocatori hanno segnato la stessa carta, ottengono entrambi due scintille.
Se il giocatore in turno indica una carta che nessun altro ha segnato, quel giocatore termina di giocare per quel round.
Alla fine del 4 round, chi ha più punti è il vincitore!
Include 84 carte di Dixit illustrate splendidamente da Jérôme Pelissier
100% compatibile con Dixit (le carte hanno lo stesso retro e possono essere utilizzate con le regole di Dixit, così come le carte di Dixit possono essere utilizzate per giocare a Dixit Stella!)
MS Distribuzione
Ms Distribuzione (Magic Store srl) è un distributore italiano che vende giochi di carte collezionabili e fantasy (TCG) come Magic: The Gathering, Yu-Gi-Oh!, Pokemon o Cardfight!! . Offriamo anche accessori di noti produttori come Ultra Pro o Dragon Shield. I nostri clienti sono i rivenditori, che cercano un servizio eccellente, prezzi competitivi e uno standard di qualità elevato. Approfitta del nostro servizio di prima classe, dei nostri preventivi senza rivali e della consegna rapida e senza problemi. In questo sito vendiamo solo a rivenditori o altri distributori. Non siamo autorizzati a vendere direttamente ai clienti finali e siamo quindi strettamente Business to Business ("B2B"). Se sei un rivenditore che desidera espandere il tuo portafoglio prodotti, registrati e dopo aver confermato il tuo stato commerciale ti garantiremo l'accesso ai nostri prezzi e livelli di stock.