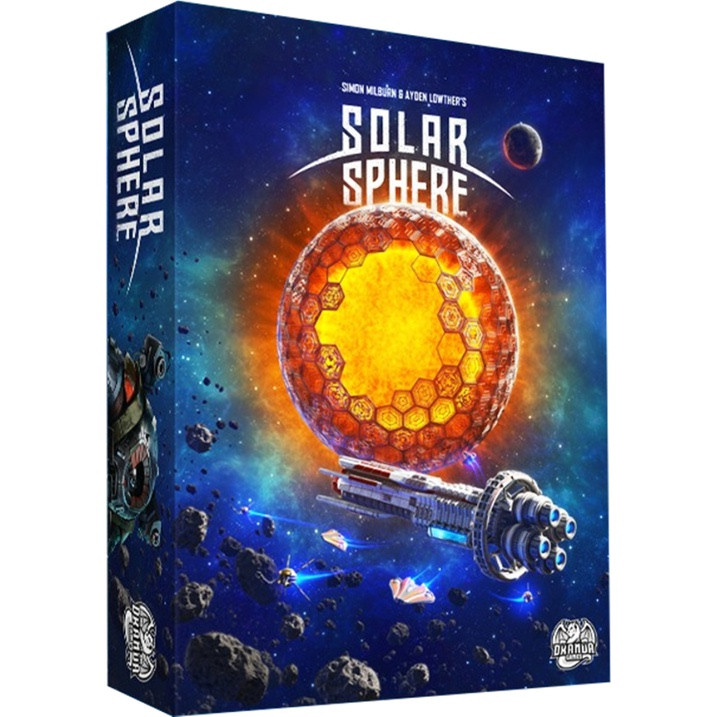 Tipologia

Lingua
I prezzi sono visibili solo agli utenti registrati e autorizzati
Gioco da tavolo in italiano
La razza umana ha esaurito tutta l'energia disponibile sul pianeta Terra. Per sopravvivere occorre sfruttare il potere di un sistema solare. Occorre costruire una sfera di dyson!
Solar Sphere è un gioco di Ayden Lowther e Simon Milburn per 1-4 giocatori che dura circa 90 minuti. E' il seguito tematico del gioco Solar Storm. Qui vi presentiamo la campagna per la realizzazione della versione italiana del gioco.
Solar Sphere è un gioco di posizionamento/manipolazione dei dadi con elementi di costruzione, gestione delle risorse. E' ambientato centinaia di anni nel futuro in un'epoca in cui la competizione fa progredire l'umanità (ma in cui a volte è anche necessaria la collaborazione).
In Solar Sphere, ogni giocatore comanda una nave madre. Come Capitano, il tuo compito principale è costruire una sfera di dyson, assumere un equipaggio e difendere la sfera dagli alieni che l'attaccano fino a guadagnare il prestigio necessario a diventare il salvatore dell'umanità!
In questo gioco di posizionamento dei dadi, i giocatori possono manipolarli usando i droni. Tuttavia, i giocatori hanno una scorta limitata di droni, che vengono utilizzati anche per potenziare i punti di posizionamento o per supportare i combattimenti contro gli alieni. I giocatori possono sempre riciclare i droni usati per riaverli nella loro scorta. Oppure spendili per ottenere vantaggi immediati.
I giocatori iniziano contemporaneamente il turno tirando i dadi. I dadi fungono da veicoli spaziali e vengono inviati, in ordine di pagamento, in luoghi per raccogliere risorse, costruire la sfera di dyson, costruire o riciclare droni, aggiornare i posti di lavoro, assumere equipaggio e combattere gli alieni.
MS Distribuzione
Ms Distribuzione (Magic Store srl) è un distributore italiano che vende giochi di carte collezionabili e fantasy (TCG) come Magic: The Gathering, Yu-Gi-Oh!, Pokemon o Cardfight!! . Offriamo anche accessori di noti produttori come Ultra Pro o Dragon Shield. I nostri clienti sono i rivenditori, che cercano un servizio eccellente, prezzi competitivi e uno standard di qualità elevato. Approfitta del nostro servizio di prima classe, dei nostri preventivi senza rivali e della consegna rapida e senza problemi. In questo sito vendiamo solo a rivenditori o altri distributori. Non siamo autorizzati a vendere direttamente ai clienti finali e siamo quindi strettamente Business to Business ("B2B"). Se sei un rivenditore che desidera espandere il tuo portafoglio prodotti, registrati e dopo aver confermato il tuo stato commerciale ti garantiremo l'accesso ai nostri prezzi e livelli di stock.