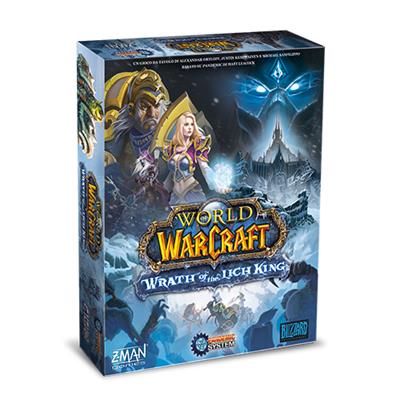 Tipologia

Lingua
I prezzi sono visibili solo agli utenti registrati e autorizzati
Per l'Orda!
Per l'Alleanza!
Per Azeroth!
Il dominio del Re dei Lich si è esteso ben oltre il suo trono varcando i confini della temuta Rocca della Corona di Ghiaccio. Deve essere fermato e il Flagello rappresentato dalla sua armata di non morti deve essere sradicato. Azeroth è in fermento e i suoi eroi si sono radunati, pronti ad assediare la dimora del Re dei Lich.
Riuscirete a sopravvivere all'orda di non morti abbastanza a lungo per affrontarlo e mettere fine alla sua tirannia?
Viaggiate verso Nordania, il freddo e spietato continente di Azeroth, dove gli eroi ricorreranno alle consolidate meccaniche della serie Pandemic, ma arricchite da eccezionali novità, per creare un'esperienza davvero unica con World of Warcraft: Wrath of the Lich King – Un Gioco da Tavolo Pandemic System.
Vestite i panni di personaggi leggendari come Thrall, Capoguerra dell'Orda; Varian Wrynn, Re di Roccavento; Sylvanas Ventolesto, Regina Banshee dei Reietti e molti altri, ognuno con le sue capacità uniche e la sua miniatura di plastica scolpita e dettagliata.
Forti, templi, campi di battaglia e molto altro popolano il grande tabellone mentre gli eroi viaggiano attraverso il gelido paesaggio, lavorando insieme per farsi strada verso gli iconici luoghi dove affronteranno la minaccia crescente dei ghoul del Re dei Lich.
Questi servitori attaccano i giocatori, ostacolando i loro progressi per liberare il mondo dal malvagio padrone. Troppi ghoul che si generano in una singola area evocano abomini potenti e aggressivi, orribili bestie non morte soggiogate dal potere del Re dei Lich che cercheranno l'eroe più vicino per affrontarlo.
Ci saranno poi da completare ben tre pericolose imprese, lavorando in squadra e combinando i tiri dei dadi con le Carte Eroe, faticando a uscirne indenni. Mentre i giocatori completano le imprese, si avvicinano sempre di più all'assalto finale alla Rocca della Corona di Ghiaccio, dove risiede il Re dei Lich.
Riuscirete a salvare Azeroth?
MS Distribuzione
Ms Distribuzione (Magic Store srl) è un distributore italiano che vende giochi di carte collezionabili e fantasy (TCG) come Magic: The Gathering, Yu-Gi-Oh!, Pokemon o Cardfight!! . Offriamo anche accessori di noti produttori come Ultra Pro o Dragon Shield. I nostri clienti sono i rivenditori, che cercano un servizio eccellente, prezzi competitivi e uno standard di qualità elevato. Approfitta del nostro servizio di prima classe, dei nostri preventivi senza rivali e della consegna rapida e senza problemi. In questo sito vendiamo solo a rivenditori o altri distributori. Non siamo autorizzati a vendere direttamente ai clienti finali e siamo quindi strettamente Business to Business ("B2B"). Se sei un rivenditore che desidera espandere il tuo portafoglio prodotti, registrati e dopo aver confermato il tuo stato commerciale ti garantiremo l'accesso ai nostri prezzi e livelli di stock.