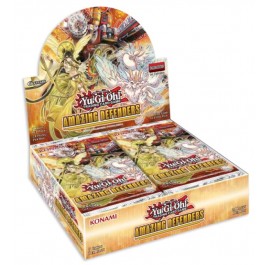 Tipologia

Lingua

Preordine

Disponibile dal 19 gennaio

Scadenza preordine

01/12/2022

Se l'ordine viene effettuato dopo la scadenza indicata
non sarà garantita la consegna della quantità richiesta.
I prezzi sono visibili solo agli utenti registrati e autorizzati
Tre nuovi temi unici sono pronti in Amazing Defenders! Questo set da 60 carte ti da nuovi modi di costruire possenti mostri che possano dominare i Duelli. Ogni tema ha uno stile di gioco unico, quindi provali tutti e tre e scopri qual'è il tuo preferito! Ecco un assaggio delle novità in arrivo:
Un veicolo equipaggiato che arriva sempre per primo sulla scena! Ha tutti gli strumenti che ti servono per sopravvivere e superare ogni minaccia.
Un mostro Xyz che ha bisogno di un pò di TLC per raggiungere il suo pieno potenziale! Allevalo bene e non ci sarà nulla che non potrete ottenere insieme.
Un Mostro Rituale che appare solo padroneggiando la danza mistica. Quale tipo di potere cela?
In aggiunta alle carte per attuare queste strategie, Amazing Defenders includerà alcune carte più vecchie per aiutarti a costruire questi mazzi. In aggiunta a questo, 15 carte del set saranno disponibili anche come Collector's Rare!
Il set Amazing Defenders contiene 60 carte:
10 Ultra Rare
15 Super Rare
35 Rare
*15 carte nel set saranno disponibili come Collector's Rare
MS Distribuzione
Ms Distribuzione (Magic Store srl) è un distributore italiano che vende giochi di carte collezionabili e fantasy (TCG) come Magic: The Gathering, Yu-Gi-Oh!, Pokemon o Cardfight!! . Offriamo anche accessori di noti produttori come Ultra Pro o Dragon Shield. I nostri clienti sono i rivenditori, che cercano un servizio eccellente, prezzi competitivi e uno standard di qualità elevato. Approfitta del nostro servizio di prima classe, dei nostri preventivi senza rivali e della consegna rapida e senza problemi. In questo sito vendiamo solo a rivenditori o altri distributori. Non siamo autorizzati a vendere direttamente ai clienti finali e siamo quindi strettamente Business to Business ("B2B"). Se sei un rivenditore che desidera espandere il tuo portafoglio prodotti, registrati e dopo aver confermato il tuo stato commerciale ti garantiremo l'accesso ai nostri prezzi e livelli di stock.