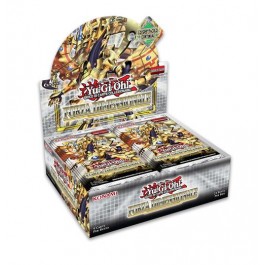 Tipologia

Lingua
I prezzi sono visibili solo agli utenti registrati e autorizzati
Abbatti le barriere della realtà con Dimension Force, l'ultimo booster di base per Yu-Gi-Oh! TRADING CARD GAME (TCG). Questo 100 carte include più temi nuovi di zecca e nuove carte per le vecchie strategie. I fan di Yu-Gi-Oh! ARC-V possono entrare in azione con le nuovissime carte 'Performapal' e un nuovo mostro 'Odd-Eyes' che è il primo mostro Pendulum Ritual in assoluto! Re- animare le strategie del passato con un nuovo mostro Synchro Zombie 'Occhi Rossi' che può evocare in modo speciale altri mostri Zombie e persino se stesso dal Cimitero! Dimension Force è piena di carte dinamiche pronte a spingere le possibilità di Deck-building al limite!
Ecco solo alcune delle cose che puoi aspettarti:
- Un nuovissimo Link Monster pronto a portare le strategie di Pendulum oltre ciò che una volta si pensava fosse possibile! Attenzione alle carte pronte ad elevare qualsiasi strategia basata su Pendulum.
- Potenti Mostri Synchro, tra cui un Mostro Synchro Psichico di livello 11 che non viene influenzato dagli effetti attivati dall'avversario e può scatenare un'ondata di violenza. effetti attivati e può scatenare un attacco devastante quanto più si rimane indietro in punti vita!
- Fusion Summon con le nuovissime carte 'Predaplant' e 'Starving Venom' pronte a divorare i mostri del tuo avversario!
- Più carte per i temi introdotti in Ritorno del Duellante, Tempesta di Ragnarok, I Grandi Creatori e altro ancora! - Il prossimo volume di carte per il tema World Premiere introdotto in Battle of Chaos!
- E molto altro ancora!
Il set booster Dimension Force contiene 100 nuove carte:
50 Comuni
26 Super Rare
14 Ultra Rare
10 Rare Segrete
MS Distribuzione
Ms Distribuzione (Magic Store srl) è un distributore italiano che vende giochi di carte collezionabili e fantasy (TCG) come Magic: The Gathering, Yu-Gi-Oh!, Pokemon o Cardfight!! . Offriamo anche accessori di noti produttori come Ultra Pro o Dragon Shield. I nostri clienti sono i rivenditori, che cercano un servizio eccellente, prezzi competitivi e uno standard di qualità elevato. Approfitta del nostro servizio di prima classe, dei nostri preventivi senza rivali e della consegna rapida e senza problemi. In questo sito vendiamo solo a rivenditori o altri distributori. Non siamo autorizzati a vendere direttamente ai clienti finali e siamo quindi strettamente Business to Business ("B2B"). Se sei un rivenditore che desidera espandere il tuo portafoglio prodotti, registrati e dopo aver confermato il tuo stato commerciale ti garantiremo l'accesso ai nostri prezzi e livelli di stock.