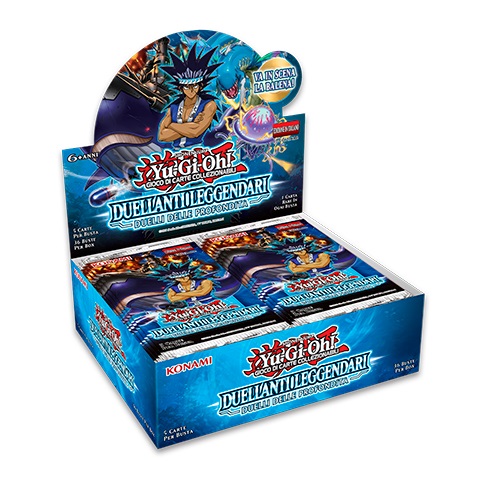 Codice

113162

Tipologia

Lingua
I prezzi sono visibili solo agli utenti registrati e autorizzati
Immergiti nel set Legendary Duelists: Duels From the Deep che presenta nuove carte per 3 strategie di mostri Acqua usate dai duellanti nelle serie animate Yu-Gi-Oh!, Yu-Gi-Oh! ZEXAL e Yu-Gi-Oh! VRAINS.
In questo set in uscita troveremo carte nuovissime per le strategie usate dal celebre pescatore e duellante Mako Tsunami, Nash, l'alter ego di Shark e leader dei Sette Imperatori Bariani e Skye Zaizen (ossia Blue Angel).
Ti attende una nuova versione di Balena Fortezza di Mako Tsunami che può abbattere il mostro del tuo avversario prima che attacchi. Pesca un paio dei nuovi mostri Acqua Xyz che ti permettono di costruire una potente combinazione Rank-Up che può convocare i mostri Numero C dal 101 al 107 con tutti i loro effetti. Sblocca un'ondata di nuove carte per la strategia di Blue Angel che spazzerà via il tuo avversario.
Legendary Duelists: Duels From the Deep include anche una carta Rara Fantasma difficile da trovare di un iconico mostro Acqua.
Il set completo include 56 carte:
9 ultra rare
8 super rare
10 rare
29 comuni
1 rare fantasma
MS Distribuzione
Ms Distribuzione (Magic Store srl) è un distributore italiano che vende giochi di carte collezionabili e fantasy (TCG) come Magic: The Gathering, Yu-Gi-Oh!, Pokemon o Cardfight!! . Offriamo anche accessori di noti produttori come Ultra Pro o Dragon Shield. I nostri clienti sono i rivenditori, che cercano un servizio eccellente, prezzi competitivi e uno standard di qualità elevato. Approfitta del nostro servizio di prima classe, dei nostri preventivi senza rivali e della consegna rapida e senza problemi. In questo sito vendiamo solo a rivenditori o altri distributori. Non siamo autorizzati a vendere direttamente ai clienti finali e siamo quindi strettamente Business to Business ("B2B"). Se sei un rivenditore che desidera espandere il tuo portafoglio prodotti, registrati e dopo aver confermato il tuo stato commerciale ti garantiremo l'accesso ai nostri prezzi e livelli di stock.