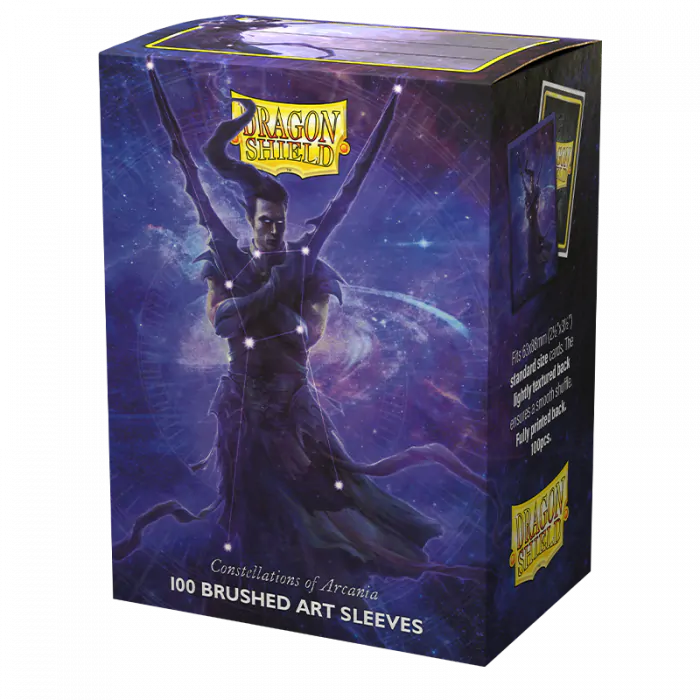 Codice

115894

Tipologia

Scadenza preordine

19/05/2023

Se l'ordine viene effettuato dopo la scadenza indicata
non sarà garantita la consegna della quantità richiesta.
I prezzi sono visibili solo agli utenti registrati e autorizzati
Captivating constellation artwork by MTG artist Jason Engle.
Experience the silky-smooth shuffle feel of Dragon Shield Brushed art sleeves. Brushed sleeves feature a lightly textured back making cards glide effortlessly when shuffling. With gradient frames and high detail printing which won't peel or split, decks sleeved in Brushed sleeves look amazing!
Theme your TCG decks and express yourself with awesome high detail artworks!
100 standard size Brushed texture sleeves
Writing field on box for organization
Box can store:
75+ single-sleeved cards
65+ double-sleeved card
Great art sleeves for TCGs like MTG, Pokemon, Flesh & Blood or Digimon!
Play with peace of mind knowing your cards are safeguarded by Dragon Shield sleeves.
MS Distribuzione
Ms Distribuzione (Magic Store srl) è un distributore italiano che vende giochi di carte collezionabili e fantasy (TCG) come Magic: The Gathering, Yu-Gi-Oh!, Pokemon o Cardfight!! . Offriamo anche accessori di noti produttori come Ultra Pro o Dragon Shield. I nostri clienti sono i rivenditori, che cercano un servizio eccellente, prezzi competitivi e uno standard di qualità elevato. Approfitta del nostro servizio di prima classe, dei nostri preventivi senza rivali e della consegna rapida e senza problemi. In questo sito vendiamo solo a rivenditori o altri distributori. Non siamo autorizzati a vendere direttamente ai clienti finali e siamo quindi strettamente Business to Business ("B2B"). Se sei un rivenditore che desidera espandere il tuo portafoglio prodotti, registrati e dopo aver confermato il tuo stato commerciale ti garantiremo l'accesso ai nostri prezzi e livelli di stock.