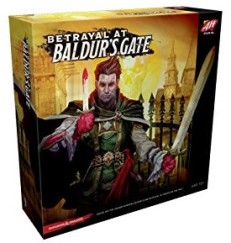 Codice

115774

Tipologia

Lingua
I prezzi sono visibili solo agli utenti registrati e autorizzati
Gioco da tavolo in italiano - Nuova Edizione
L'ombra di Bhaal è arrivata a Baldur's Gate, portando con se dall'oscurità mostri ed altri orrori!
Oltre che a costruire ed esplorare le catacome ed i vicoli bui di questa iconica città, dovrai cooperare con i tuoi compagni avventurieri per sopravvivere ai terrori che vi si pareranno davanti. Sarà così sino a quando un male oscuro porterà uno o più aventurieri a combattere tra di loro.
Sarà stato il colpo psionico del mindflayer o i sussurri di un fantasma disperato che ha trasformato i tuoi alleati in traditori? Non hai altra scelta che tenerti vicino i tuoi nemici!
Basato sul pluripremiato gioco da tavolo Betrayal at the House on the Hill, in Betrayal at Baldur's gate ritornerai in questa famosa città ancora e ancora grazie ai cinquanta scenari inclusi che assicureranno ogni partita diversa dalle altre!
MS Distribuzione
Ms Distribuzione (Magic Store srl) è un distributore italiano che vende giochi di carte collezionabili e fantasy (TCG) come Magic: The Gathering, Yu-Gi-Oh!, Pokemon o Cardfight!! . Offriamo anche accessori di noti produttori come Ultra Pro o Dragon Shield. I nostri clienti sono i rivenditori, che cercano un servizio eccellente, prezzi competitivi e uno standard di qualità elevato. Approfitta del nostro servizio di prima classe, dei nostri preventivi senza rivali e della consegna rapida e senza problemi. In questo sito vendiamo solo a rivenditori o altri distributori. Non siamo autorizzati a vendere direttamente ai clienti finali e siamo quindi strettamente Business to Business ("B2B"). Se sei un rivenditore che desidera espandere il tuo portafoglio prodotti, registrati e dopo aver confermato il tuo stato commerciale ti garantiremo l'accesso ai nostri prezzi e livelli di stock.